Zero gravity chairs are making rounds on the internet but people are reluctant to purchase them. They are designed by specialists for people suffering from back pain. These chairs are ideal for people who have to sit and work for hours.
I did my research for a good two weeks and wrote a detailed article on them. You can read the article carefully to know all the information regarding zero gravity chairs and what effect they have on your lower back area.
What is a Zero Gravity Chair?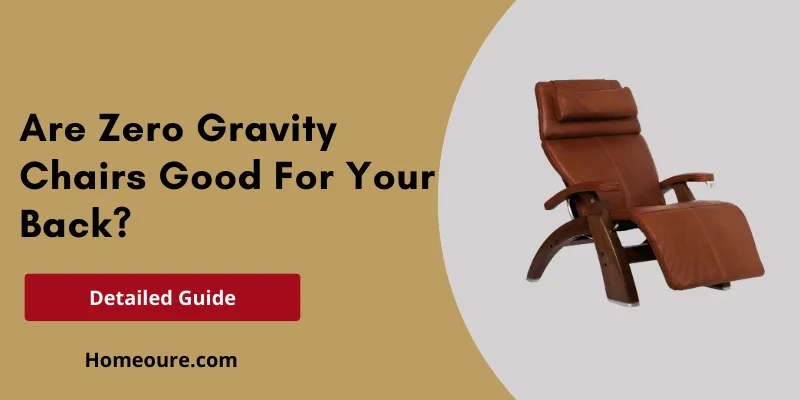 A zero gravity chair keeps you in the floating position so the weight of the body is equally divided. This design is ideal for people that suffer from back pain and sciatica. It comes with a comfortable leg and backrest so you can relax in your lounge or the garden.
Who Invented Zero Gravity Chair?
Zero Gravity Chair was designed by NASA as they wanted the people to know what it feels like to be in space. The astronauts float in the air, hence the feeling is quite similar to when you sit on a zero gravity chair and experience minimized gravity.
Are Zero Gravity Chairs Good for your Back?
Keeping the pressure off your back is very much important for everyone. People often end up with back pains when they sit in the wrong position for a long time. The blood circulation and the overall body functions can be affected if you do not sit properly. A zero gravity chair can be everyone's savior when they have to sit during long duty hours.
You can adjust the position so the tissues of the back are relaxed while working. The experts also recommend using a zero gravity chair when you suffer from back problems. They have zero gravity chairs present in their clinics so the patients can try and learn the correct way of sitting on them. It releases the pressure from the lower back area and the legs as they are parallel to the floor. Also, massage centers have zero gravity massage chairs.
The chest and the legs are aligned so the back tissues do not feel stressed. People suffering from severe back pain and sciatica can also sleep peacefully on a zero gravity chair. The doctors/physiotherapists advise the patients not to rely on the medication only. Lying down on this chair in the right position also plays an important role in curing sciatica and sharp back pains.
You may also be interested to read about office chairs for tailbone pain.
Frequently Asked Questions
What is the difference between a zero gravity chair and a recliner?
The zero gravity chair makes sure that your legs and back are parallel to the ground. The feet and the chest are aligned whereas when you sit on a recliner, the knees are higher than the chest, hence putting pressure on the back.
Are zero gravity chairs worth it?
Yes, zero gravity chairs are worth all the money. They make your back feel relaxed as the effects of gravity are minimized. It also helps people to relax and sleep when suffering from sharp back pains.
Can you sit upright in a zero gravity chair?
Yes, you can sit upright in a zero gravity chair as it can be adjusted in different positions. It releases the pressure from the back muscles so you can sleep peacefully.
Final Remarks about Advantages of Zero Gravity Chairs for Back
A detailed article on a zero gravity chair is written so you can have a clear idea before making a purchase decision. It can help you with back pain and also keeps your posture straight. This chair is ideal for people who sit for hours working on their desks. The doctors/experts recommend using a zero gravity chair when suffering from severe back pain or sciatica.

Hi. This is Terry Crews, a physician by profession and writer by passion. From the last 3 years, I deal with dozens of patients every month who have different type of issues due to incorrect sitting or sleeping positions. Whenever I recommended sitting or sleeping equipment to patient for pain relief, they found it difficult to choose the right product.
Keeping that in mind, I started Homeoure to share my knowledge and experience with readers to find the right equipment according to their needs.