Watching TV on the weekend after a tiring week is the most common activity on the planet. In the era of Netflix and 4K videos, choosing the most comfortable chair for watching TV is a valuable investment.
Though looks and style are crucial features to consider while buying furniture, you need to focus more on comfort than anything else while buying a Chair for your TV lounge. You need a chair that ensures comfort and support during the extended sitting and napping sessions. To help you choose the most ergonomic TV chairs, I have listed down the best chairs for watching TV at home.
Best Chairs For Watching TV Overview
10 Best Ergonomic Chairs For Watching TV Review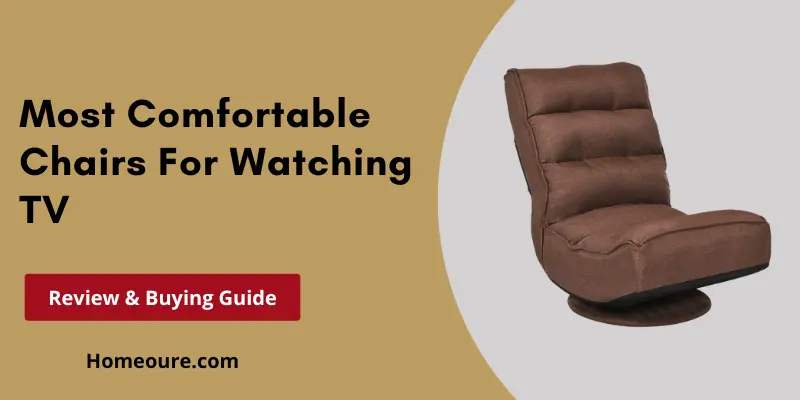 I've reviewed the 10 best ergonomic and comfortable TV chairs currently available in the market. These independently tested and reviewed chairs will not let your body feel sore, no matter how long you sit on them. Also, I've composed a buying guide, in the end, to help you make well-informed decisions.
This recliner chair is an affordable yet feature-packed option, that combines silky smooth PU leather seating with high-density foam padding. This slim and sleek chair looks great with living room interiors.
With a dual-function foot extension and an extensive recline feature, it helps you sit and relax in the healthiest posture. Foot extension helps you stretch your legs the way you want and improves the blood flow in the lower body for maximum comfort and de-stress. The chair uses high-density foam padding in the backrest and seat.
The padding offers an excellent balance between plushness and support. The cushion is impressive and it offers decent support without being too rigid. The chair offers an extensive recline feature up to 163 degrees with a total extension of 62.2 inches.
It easily accommodates people under 6 ft. If you are taller than 6'1" this chair is not for you. Its two-point massage feature with an intuitive remote control helps you treat your body aches at the ease of your home.
The massage works in three different intensities and 8 different modes. The targeted massage feature relaxes your lumber, neck, lower back, and mid-back. The structure of the chair is crafted with premium grade hardwood making it exceptionally stable. It can support up to 300 lbs. and last longer than your expectations. PU leather is waterproof and super classy in stitching.
This stain-resistant and scratch-resistant chair has minimum maintenance requirements and offers a premium finish for a perfect look. The biggest downside of this chair is that it has a manual recline feature. The manual recline lever is super smooth but it is a little challenging to use this feature if you have limited mobility. Secondly, the massaging points protrude through the fabric making it a little uncomfortable.
Why I Recommended BestMassage Recliner Chair
MassagePoint PU leather chair is a feature-packed option that you can buy with a tight budget. Super creamy PU leather upholstery offers a premium grade finish and long-term performance with a little maintenance The chair features a sleek profile and is a great option for smaller rooms like 10×10.
Unlike regular recliners, its recliner and footrest are not linked with each other, allowing you to get the right support and comfort levels while sitting in different postures. The recliner function of the chair works between 90-135 degrees and locks at three different positions.
The targeted support at the headrest and lumbar help you get the maximum support. The recline feature is limited and it is not a good option for sleeping.
Its headrest is adjustable making it equally suitable for tall and short people. The footrest is integrated with the base and offers full-length support for maximum comfort.
Faux leather construction with high-density sponge padding offers decent support and cushion. It feels pretty soft without limiting the support offering an untiring experience for extended gaming sessions.
Armrests are also fully padded but unfortunately, you cannot adjust the height or pivot angle of the armrest. To keep your gaming and personal essentials at quick access this chair has side storage pockets.
Its sturdy metallic frame combined with a solid swivel base offers unrivaled stability and prevents jerking or slipping. The maximum weight holding capacity of the chair is 275 lbs. which is somewhat limited considering its high backrest and spacious seat profile.
Why I Recommended RESPAWN RSP-900 Reclining Chair
RESPAWN RSP-900 racing styles recliner offers soft plushy comfort for your body and helps you sit in a healthy posture while playing games or watching TV. I loved the smooth and independent footrest functionality of the chair and highly recommend it to you if you are a fan of racing-style recliners.
The fabric is durable and highly resistant to water-based stains. It can resist stains for more than 120 seconds making it pretty easy to clean and maintain. The waffle stitch pattern with tufted button backrest offers a clean and elegant look. The chair is decently padded for maximum support and comfort.
Its fabric construction makes it skin friendly and breathable. The recliner of the chair is manual and you can adjust it by pushing it backward. The reclining is limited and it needs only a 6-inch wall clearance. The chair uses premium-grade birch wood and supports up to 300 lbs.
Its adjustable two-step footrest helps you extend your legs for improved blood flow. However, this chair has a short backrest and a limited footrest extension. Therefore it's not a good option if you are taller than 5'7". The chair requires assembly and includes all the accessories required to complete the process.
Why I Recommended Macedonia Recliner Sofa
If you like traditionally styled furniture, this recliner sofa by Macedonia is a definite way to go. The chair has a zero gravity design and highly supportive padding making it the most comfortable chair for watching TV. With a compact design and minimum wall clearance, it occupies little space in your room.
Its' fully padded profile combined with an ultimate support structure helps you get the ultimate comfort and healthy postures while relaxing or watching TV. The chair uses overstuffed padding on the seat, backrest, and armrests.
High-density foam padding doesn't offer a sinking feel without being too hard on the body. With a dedicated headrest combined with solid lumbar support it perfectly conforms to your body allowing you to destress and unwind while reading books or watching TV.
The chair uses a high-quality electric motor setup with easily accessible controls. You can control the recliner and power lift features just with a push of a button. Power lift features help you get in and out without straining your knees and back. Also have a look at best chairs for knee pain.
Another perk of this power lift recliner is its wall hugger design. For maximum recline position, it only needs a 6-inch wall clearance which is quite impressive.
If you have limited space in your living room or bedroom this recliner sofa by Domesis Renu is a definite way to go. It is upholstered in durable, breathable, and ultra-smooth faux leather. It uses a sturdy steel and hardwood structure and can support up to 300 lbs.
What I found a little disappointing was that the chair doesn't come with a footrest. Also, it doesn't come with additional utilities like storage pockets or cup holders.
Why I Recommended Domesis Power Lift Recliner
Power Lift recliners are expensive, but this option by Domesis Renu is still a manageable option for many people. With an integrated support structure and high-quality sponge padding, it offers unrivaled support while watching TV making it a comfortable chair for watching TV. If you are facing mobility issues, its power lift feature is always ready to assist you.
The ergonomic curve design at the back conforms to your spinal curve allowing you to sit in a healthy posture. The recline feature is more than impressive. It comes with a tilt adjustment lever allowing you to adjust the backrest at multiple angles between 90-165 degrees.
In addition to incredible support, I loved the ultra-soft yet responsive padding in the chair. It uses a pocket spring base that offers support without being extra hard on the body. PU and PVC outer skin of the chair is waterproof and highly resistant to stains. Its maintenance requirements are minimum and you can clean it with a damp cloth.
What helps it stand among the best TV chairs is its highly functional footrest. The footrest is adjustable between 90-180 degrees allowing you to stretch your legs. The maximum height it can accommodate is 5'6" and unfortunately it's not a good option for taller persons.
The sturdy steel frame offers decent support and stability. Its weight holding capacity is 265 lbs. Weight holding capacity is okay but not as impressive as some other options on the list.
The chair comes fully disassembled and needs proper assembly for a stable performance. Unfortunately it doesn't include all the necessary hardware and you need to make additional purchases to bring everything down.
Why I Recommended Yaheetech Recliner Chair
Theatre style sofa with a well-thought-supportive design is an excellent option if you are suffering from lower back or leg pain. The recliner offers incredible support and comfort while watching TV and reading books. With an extendable footrest and rugged support at the neck, it allows you to sleep comfortably.
The recline feature is super smooth and you can adjust the backrest at four different angles between 90-160 degrees. With the maximum recline, it allows people up to 5'8″ to sit with their legs fully stretched..
Unlike regular power recliners, it uses a patented spring support system. It takes its responsiveness and support to a whole new level. Its well-padded structure with overstuffed finishing enhances the cushion and offers a hugging feel.
Although it is an affordable option it didn't compromise the quality. A sturdy stainless steel frame combined with high-density sponge padding offers reliable performance for many years to come. It comfortably supports up to 330 lbs. and is rated for 24/7 use.
Textile upholstery is soft and durable. However, it catches dust and stains more quickly than its leather counterparts. The good news is that its cover is removable making the cleanup pretty easy.
The chair is foldable and offers compact storage making it a good option for smaller homes. Build quality is impressive but it has some major design limitations that I need to discuss. The chair lacks targeted support areas like the lumbar or headrest.
Also, it doesn't come with an armrest making it a little challenging to balance your body for extended hours. Another limitation of this chair is that it is not a suitable option if you are taller than 5'7".
Why I Recommended Giantex Folding Floor Chair
Giantex Lazy floor sofa is one of the most sportive and responsive TV chairs that I've ever tried. With a spring-based support structure and extensive recline feature, it allows you to keep your body in the most comfortable position while relaxing and watching TV.
This multi-position reclining chair uses CAL 117 fire retardant foam for maximum comfort and stability. Moreover, it uses 200 g of extra foam for overstuffed padding at the top. Also, it comes with a zipper that allows you to customize the overstuffed pillows as per your body and posture requirements. The plushy top of the chair acts soft on the skin making the chair an excellent option for the elderly.
The waterproof design of the chair makes it pretty easy to clean. The ottoman is also padded and upholstered in the same way offering maximum comfort. Its stable circular base allows you to adjust to multiple positions. It doesn't slip or move to allow you to sit and sleep comfortably.
The chair uses a sturdy hardwood frame and can support as much as 350 lbs. With a fully padded armrest and a side storage pocket, it further enhances the convenience and comfort while relaxing or watching TV.
The sturdy wooden base protects the hardwood and carpet floors from damage. The chair uses an advanced ball bearing design for smooth recline and swivel. However, it needs considerable space and wall clearance for maximum recline.
The chair looks like leather but actually, it is constructed with vinyl. Vinyl is waterproof but lacks breathability and is less reliable than leather. It has a strong smell and becomes sticky due to sweating. The chair comes fully assembled giving you a ready-to-go experience.
Why I Recommended Flash Furniture Contemporary Recliner
Flash furniture contemporary style chair with an extra wide seat and high backrest is the most comfortable chair for watching TV. Its hypoallergenic sponge padding combined with a smooth recliner and overstuffed cushion takes its comfort and stability to a whole new level for extended sitting sessions.
What sets it apart from other recliner sofas is its pocket coil C3 support system. It uses C3 pocket coil springs making it super bouncy and responsive. The best part is that you will not lose stability.
The leather-like-looking suede upholstery is soft and waterproof. Also, it ensures breathability and prevents rashes and sweating. However suede is not as reliable as its leather counterparts.
The chair features a high backrest with an extra wide seat and offers a perfect fit for tall guys. One of my friends is 6'2" and it fits him perfectly. The chair has a limited recline feature. You can adjust the recline between 90-135 degrees and require minimum wall clearance.
However, the lever is placed in an awkward position and it's pretty hard to pull, especially if you have mobility issues. The chair has best-in-class stainless steel construction and its maximum weight holding capacity is 550 lbs. The chair is partially assembled and includes all the necessary hardware to get everything in place.
Why I Recommended Lane Home Furnishings Wall Saver Chair
Lane Furnishing wall-saver recliner combines style, quality, and comfort making it a great living room choice. With the ultimate pocket coil support system and plush padding at the top, it is the most comfortable chair for watching TV that you can buy in 2022.
Its ultimate support at the lumbar and thighs improve the blood flow in the leaning posture. Additionally, you can adjust the headrest at multiple positions to get the required support in different postures. In this way, it offers excellent support for the neck and shoulders making it the best chair for extended sitting sessions.
The chair uses a thick sponge with overstuffed pillow cushioning at the top. The thick padding at the base provides support while the overstuffed pillow cushion offers a soft and hugging feel.
For additional support and stability, this lazy floor sofa uses a reinforced steel frame. Unlike metal alloy frames, it ensures stability and can support as much as 310 lbs. The chair comes with a side storage area where you can keep the remote, glasses, and various essentials at a quick access.
It comes wrapped in a soft textile cover. The cover is removable making it pretty easy to wash or clean. However, this fabric is not stain-resistant and you should be careful while eating or drinking on the sofa.
The backrest of the chair folds down to offer compact and safe storage when not in use. The major downside that I was able to point out was the stability issues. The frame of the chair tends to slant toward the right making it a little uncomfortable. I contacted customer service and they said it happens due to poor assembly.
Why I Recommended Giantex Folding Floor Lazy Sofa
Giantex lazy floor sofa with an overstuffed pillow padding and fully customizable profile is undoubtedly the most comfortable chair for watching TV. Its purpose-built design perfectly conforms to your body and prevents body aches and muscle strains during extended sitting and napping sessions.
Unlike bulky recliner sofas, this chair features a wooden frame with uniquely stuffed padding at the seat, backrest, and ottoman. Despite losing a lot of bulk, this chair has maintained the zero gravity position for ultimate support and comfort. Its zero gravity design helps you sit in a virtually weightless position and reduces body aches and pain.
The chair has a manual recline feature that you can control with a super smooth lever. The recliner is super smooth and allows you to adjust the backrest tilt at various angles. The integrated footrest of the chair is also adjustable allowing you to sit in the healthiest posture.
The adjustable pillow or lumbar support and dedicated headrest combined with a fully adjustable profile make the chair a perfect option for people having back pain, surgery, or any other spinal cord issues. If you recently have a spinal surgery, you can go through my guide about best chairs after spinal surgery.
The wooden base and frame make it exceptionally stable and aesthetically great. The chair can hold up to 400 lbs. and can accommodate taller people. Its full grain leather construction is soft, durable, and hypoallergenic. The waterproof profile makes the cleaning super easy.
Why I Recommended Human Touch Perfect Chair
Human Touch's perfect chair with zero gravity design and premium build quality gives you the best value for money. Its minimalist design combined with a fully customizable profile makes it the most comfortable chair for watching TV.
How to Choose Right Chair for Watching TV?
This guide enlists and explains the most crucial features that you need to consider while buying the most comfortable chair for watching TV.
Type Of The Chair
The type of chair you need is a real twist. The choice boils down to your personal taste, space available, budget, and the level of support that you need. You can see a wide range of living room chairs like power recliners, regular recliner sofas, racing style chairs, contemporary ottoman style chairs, bean bags, a lazy floor sofa, and many more.
If you have no space or budget constraints I would recommend you buy a recliner sofa or racing recliner for maximum support. Lazy floor sofas are a good option if you have a limited budget. If you didn't spend much time in front of the TV, casual bean bag chairs will serve the purpose.
Upholstery
The comfort that you get from a chair or recliner largely depends upon the type of upholstery it features. You need to choose between various options like a variety of textile fabrics, velvet, microfiber, suede, variations of leather, etc.
PU leather and Faux leather are the most common upholstery choice for recliners and racing-style chairs. Leather has its own pros and cons. Leather is breathable and waterproof, it doesn't absorb stains and is pretty easy to clean.
However not all people find it comfortable since all leather varieties are not hypoallergenic. For sensitive skin microfiber or textile, upholstery is a good option. Fabric is soft but less durable than leather. Also, the fabric absorbs spills more quickly and it's pretty hard to clean. If you are a hot sleeper, it is recommended to buy leather since it is breathable and maintains the airflow to avoid the sticky feeling.
Size of the Chair
The size of the chair is another important consideration. You need to choose a size that is in line with the needs of your body profile and the space available in your home. If you are taller than 5'7", you may not find every recliner comfortable. You need to consider recliners with a high backrest and extendable footrest to get a comfortable and healthy posture.
Fat people need to look for an extra wide seat. If you are taller than 6 ft consider the Flash Furniture Contemporary Multi-Position Recliner. If you have limited space available in your living room, you can buy wall huggers to save space without limiting the seating size. These chairs need minimum wall clearance for maximum recline. Also, you can buy foldable lazy floor chairs or bean bag chairs to save space.
Chair Padding And Stuffing
Padding or stuffing in the chair is another crucial feature when your focus is comfort. Poor quality padding offers a sinking and slouching feeling when you sit for extended hours. Also, you don't get the required support leading to body aches. Tough padding in the chair can be hard on the body, especially the skin.
Most comfortable chairs come with supportive padding at the base and overstuffed cushioning at the top to create a balance between support and plushness. Also, the service life of the chair depends upon the quality of foam padding. If the foam shrinks quickly, you will lose support and comfort.
Support Mechanisms
The support mechanism of the chair largely affects your experience. If you are suffering from back pain or neck pain issues you need to look for the chairs offering targeted support at the lumbar, and headrest. Targeted support at various body parts enhances your comfort during long movie sessions.
Customizations
Not every chair is made for your body, but if it supports customization you can achieve a hugging fit with a little effort. If you are buying a recliner look for an extensive and dependable recline function. It helps you get maximum comfort while sitting in different postures.
Headrest adjustability and lumbar support customization are some other features that allow you to conform to your body with the chair perfectly. Leg-rest or foot-rest customization is another important factor. An integrated footrest offers limited adjustment. An ottoman chair combo has more customization options and can accommodate taller people with maximum ease.
Additional Features
Advanced ergonomic chairs come with a wide range of additional features like size storage pockets, cup holders, and storage areas. These features allow you to keep your essentials at quick access. If you have mobility issues or you face trouble while getting in and out of the chair you should look for power lift or power recliner features.
A power lift feature is pretty useful for the elderly as it allows you to get in and out without putting pressure on your thighs and knees. Massage, heating, and vibration features come with premium-grade power recliners. These features add extra cost but help you get therapy at the ease of your home.
Budget
Chairs for the living room are available at a wide range of prices from $150-$2000. It's your budget that helps you narrow down your choices. If you are looking for something comfortable and reliable under $200 you can find a few options on the market. In this price range, you can buy a lazy floor sofa by Ginatex or some bean bag style chairs.
You can buy a well-padded and reliable recliner sofa for $300-500. If you are looking for advanced features like a massage function, power lift, and power recliner, you need to spend between $900-2000.
Ease Of Assembly
Last but not least, the assembly of the chair can be challenging if you don't get the right installation instructions and hardware. Some chairs come pre-assembled or partially assembled. However, most of the chairs and recliners are delivered completely disassembled.
Before you make a purchase it's crucial to ensure if the package includes all the necessary hardware or not. If hardware is not included it can be challenging to buy fully compatible nuts and bolts.
Frequently Asked Question
What is the most comfortable chair you can buy?
BestMassage Recliner Chair for Living Room with a smooth recline feature, overstuffed padding, and supportive frame is one of the most comfortable chairs that you can buy. The chair comes at a very affordable price and targeted support at the lumbar and headrest.
Which type of chair is best for long sitting?
You should look for a recliner-style sofa to ensure comfort and stability for extended sitting sessions. You must look for supportive adding with plushy finishing to prevent the body from aching.
Wrapping Up Ergonomic Chairs for Watching TV Review
I'm hopeful that this review and buying guide will help you choose the best chair for your TV lounge. All the options reviewed above are tested for quality, stability, and comfort they offer and you will not regret your decision if you make a choice. Here are my top three favorites from the list:
If you are facing low mobility issues due to chronic back pain, surgery, or bad spinal cord health, it is advised to buy power lift recliners to get in and out easily. Also, I highly recommend you buy a leather sofa for ease of cleaning and maintenance.