Recliners are the favorite choice of countless homeowners due to the maximum comfort and many beneficial features that they deliver to them. Due to technological advancement, these recliners are currently highly transformed. Power capabilities, space-saving features, and extreme comfortability are what these recliners persistently offer. However, the different types of recliners have various functional features, serving the users in various ways.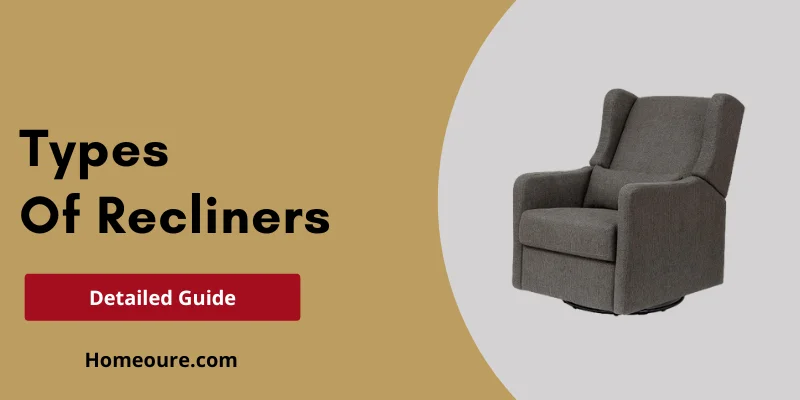 While talking about recliners, there is a single sofa or armchair that offers maximum comfort to the users. These recliners are also known as reclining chairs, loungers, or automatic chairs. Furthermore, these recliners are equipped with an extendable and comfortable footrest along with a tilt-able backrest that is adjusted with the help of a lever which is located at the side of the recliners.
8 Most Common Types of Recliners Explained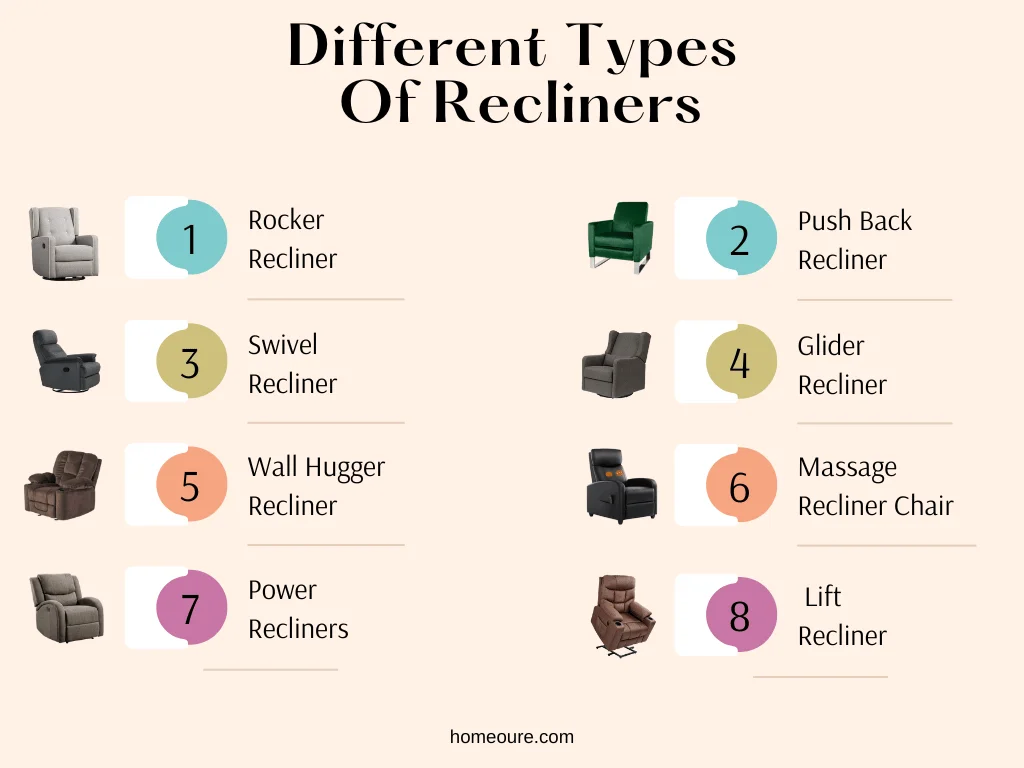 The best thing about these recliners is that they are equipped with adaptable headrests, lumbar support, and automatic footstools that are adjusted according to the weight and the angle of the user's legs in order to deliver maximum comfort and relaxation. Apart from this, when talking about high-end recliners, they are indulged with high-end beneficial features including heat, massage, and vibration.
1. Rocker Recliner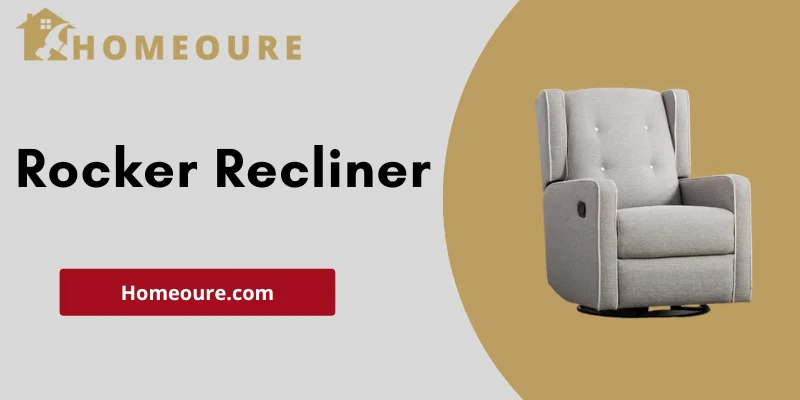 This type of recliner offers two things i-e rock and recline. The highlighted feature of this recliner is the motion feature that offers comfortable and rocking relaxation. This type of recliner is suitable for insomniacs, nursing mothers, and mothers who want their kids to sleep well.
Furthermore, this motion recliner is the most common and preferred option for many homeowners and for people looking for comfortable recliners to sleep in. Hence it is the best option as it is ideal for even those people who are suffering from sleep difficulties.
2. Push Back Recliner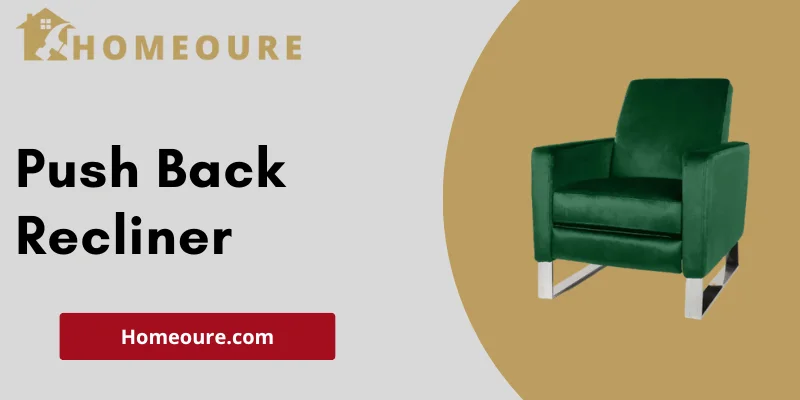 Push-back recliners are one of the most traditional and common options available in the market. The best feature of this recliner is that it is able to recline without using a lever or button.
For adjustment, the user has to sit and lean back by exerting external pressure on the back of the sofa in order to make it recline. Many of these push-back recliners are now constructed in minimalistic and sleeker designs.
3. Swivel Recliner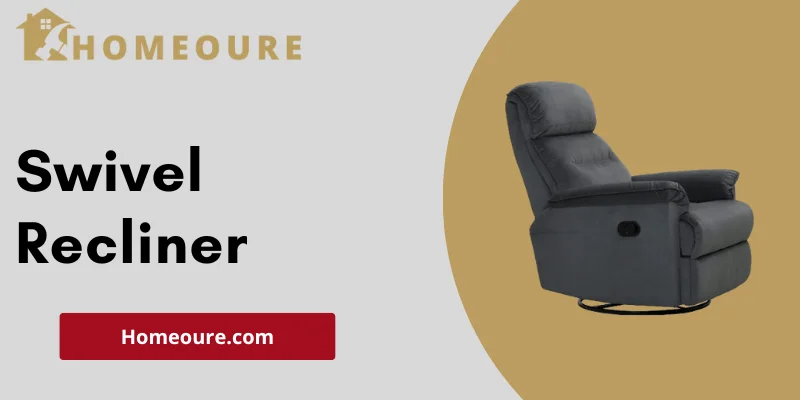 This is one of the most versatile and comfortable recliners that is equipped with an advanced motion feature, allowing the users to either face or rotate the chair accordingly in a specific direction.
In terms of design, these recliners are equipped with a round-shaped base, enabling the users to swivel left, right and backward. While comparing the other recliners, the swivel recliner is equipped with a complete set of advanced motion features.
4. Glider Recliner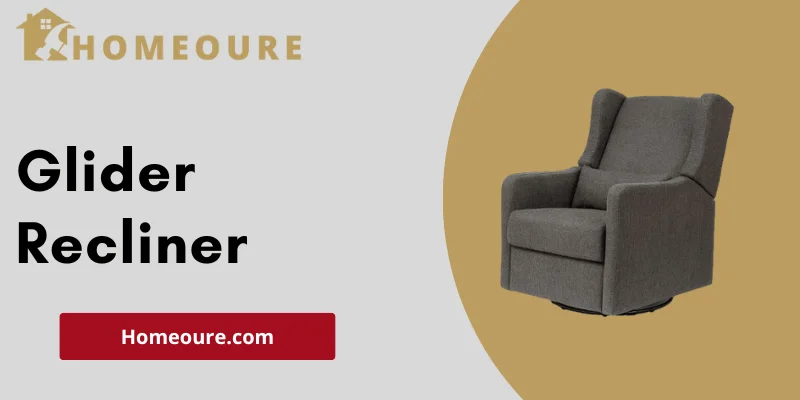 A glider recliner is similar to a rocking recliner. However, the only difference is the movement in forwarding and backward directions in a linear direction. Normally, the glider recliner is stationary and virtually noiseless and tends to move in smoother motion.
Most glider recliners are equipped with many safety features and can also swivel. Moreover, this recliner is ideal for small kids from getting proper sleep and nursing mothers.
5. Wall Hugger Recliner
Wall hugger recliner, also called a wall-away or wall-saver recliner, is one of the most advanced and unique types of recliner available in the market. Wall hugger loveseat recliner is usually placed just a few inches away from the wall in order to save indoor space.
This recliner moves in the forward direction and is an excellent space-saving chair. Moreover, this wall-hugger recliner is suitable for small-scale dwelling units and living areas of apartments.
6. Massage Recliner Chair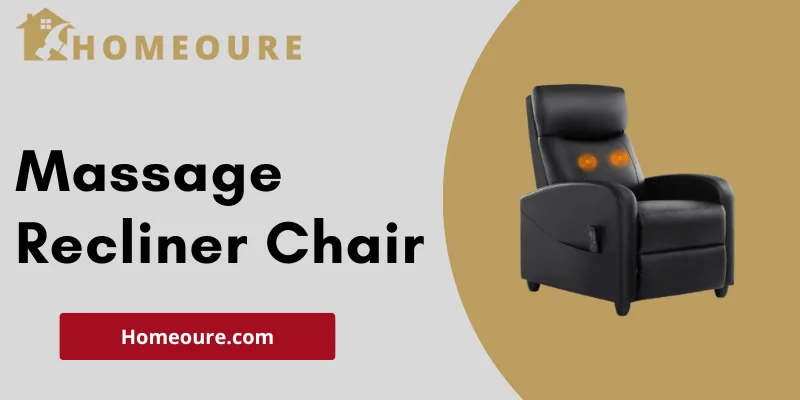 A massage recliner chair is one of the most healthy options that offers the utmost comfort to the users. This recliner chair is not only reclined but is also infused with a relaxing massaging feature. The messaging feature can be enabled only by just pressing a lever or button.
Furthermore, this massaging chair is also equipped with a heating feature which is ideal for the ones who are experiencing muscle pain and stress. The chair is also equipped with a motor that offers vibration while spinning.
7. Power Recliners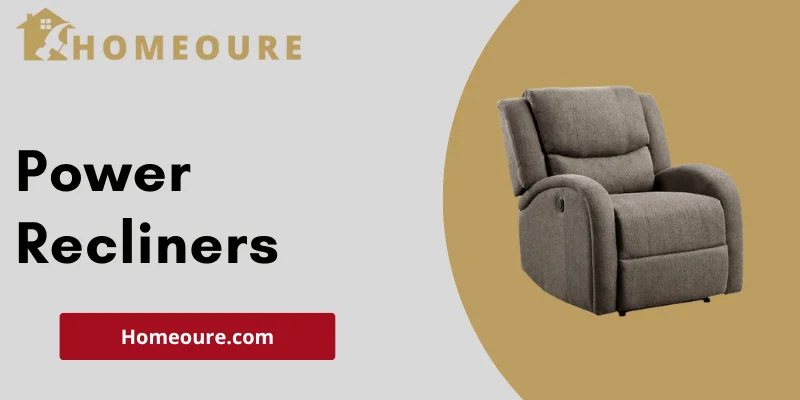 The power recliners are suitable for the ones who are experiencing physical limitations and are in need of motorized recliners in order to get maximum comfort and relaxation. Furthermore, these power recliners are suitable for old people who are suffering from knee or leg problems as the forward positions can help them in making easy movements.
Moreover, these automated recliners are also available in various materials and colors while allowing the users to customize them accordingly. You can also read a detailed comparison of power vs manual recliner.
8. Lift Recliners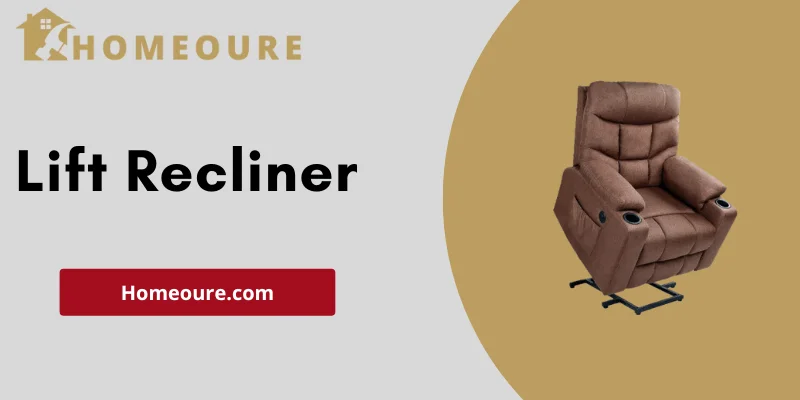 This lift recliner is equipped with an electric motor whose basic function is to lift the chair from a seated to a standing position. Furthermore, the significant feature of this tall lift recliner is ideal for people who need help standing or with limited mobility.
The best thing about this reclining chair is that its settings are controlled with the remote. Remote control recliner is often recommended by physicians to those having knees, hips, or leg problems.
How to Choose Right Type of Recliner?
Use of Recliner
Recliners are the most popular furniture item among many house owners that offers maximum comfort and a feeling of relaxation to the users. As these recliners are mostly placed indoors, therefore, you should be mindful of the fact that who is going to use them and how long the duration of usage is.
Furthermore, it is very important to invest in highly durable and premium quality recliners, equipped with advanced and beneficial features.
Space for a Recliner
As recliners are placed inside the house for nap taking, relaxing, reading books, or watching TV. However, these recliners do occupy more space than any other piece of furniture. Therefore, before buying the recliner, make sure to think about your living space to accommodate such a massive piece of furniture. Apart from this, also try to settle the space for your coffee table as the recliner's footrest might interrupt the optimal placement.
FAQs of Recliner Types
What are the different types of recliners?
Various types of recliners include:
Rocker Recliner
Lift recliner
Massage recliner chair
Power recliner
Push back recliner
Glider recliner
Swivel recliner
Wall-hugger recliner etc.
What do I need to know before buying a recliner?
Before buying the recliner for your house, make sure to take the measurements of your living space for determining the perfect fit. Furthermore, you will also need to evaluate the exact size of the recliner that fits your body perfectly. The better the recliner fits according to the size and shape of the body, the better it will perform and will remove all the extra pressure from the body, offering high comfort and relaxation.
What are the most durable recliners?
Recliners constructed from wood chips are weak and less durable. Furthermore, comparatively those recliners that are crafted from plywood or hardwood are much more durable. Apart from this, the materials used for recliners including leather, microfiber, or white micro suede fabric are highly durable and make them cozier and softer.
Final Thought about Different Types of Recliners
Recliners are massive pieces of furniture that are usually kept indoors for watching TV, relaxing, reading books, or taking naps. Furthermore, there are various types of recliners available in the market. Each type has a specific size and usage and is also equipped with various beneficial features. However, before buying any type of recliner, make sure which is best suitable for you and how you will accommodate it in your living space.
Moreover, it is advised to opt for the perfect size of the recliner that fits your body and shape as in this way, it will work better by reducing the pressure and unwanted stress from your body. The materials of the recliner also contribute to its performance. A recliner covered with leather material has high durability and makes it more softer and highly comfortable. Most of these recliners are equipped with massaging, heating, or vibrating features as well.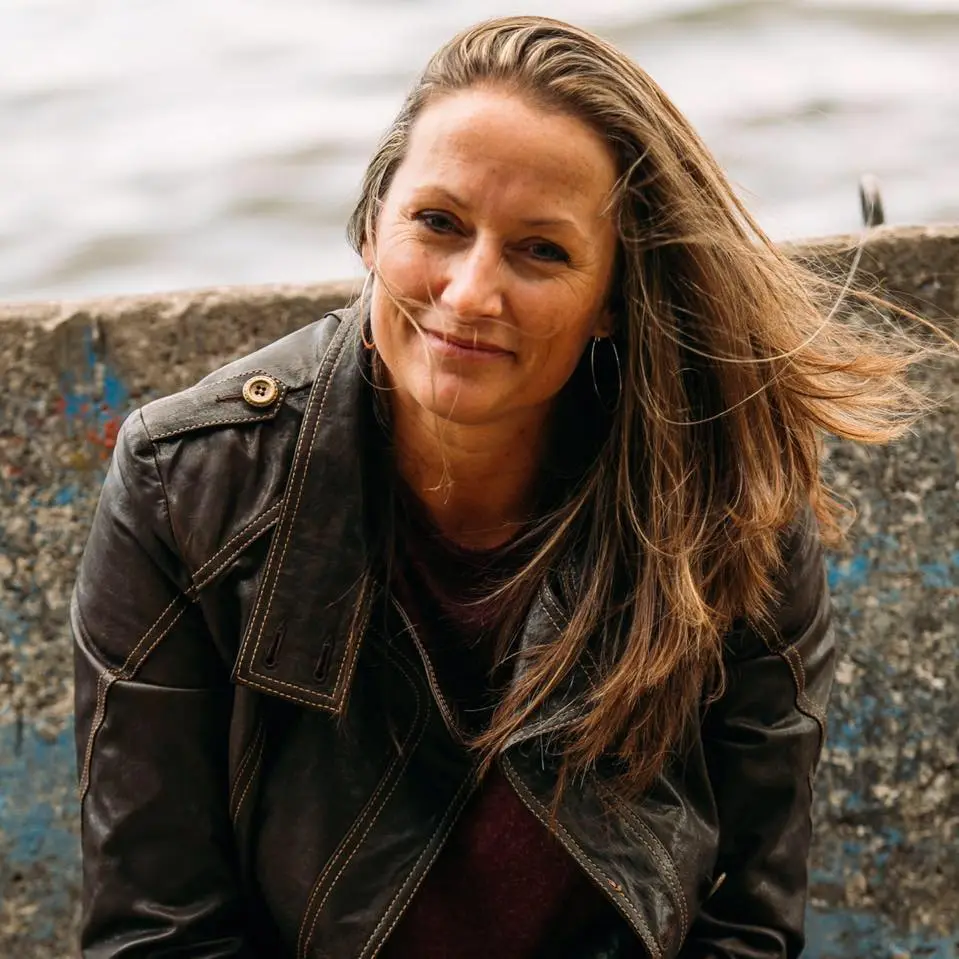 Hi, I'm Alexandra Adams, Interior Designer by profession! I has always been passionate about interior design and remodeling since my childhood. Following my passion, I graduated with a Bachelor of Fine Arts in Interior Designing and turned my passion into a profession. I have worked as commercial and residential interior designer to make homes and offices more functional while keeping their aesthetic.
Looking at my Interior Designing expertise, Terry Crews offered me to join his team to help him shape the very core of Homeoure. Feel free to contact me at anytime for queries related to your home and office furniture and other things related to designing.
Learn More about Homeoure and Alexandra Adams