Recliners are the best alternatives to the beds, as they allow the elderly and people with chronic back pain and injuries to sleep in a comfortable posture. Also, you can get super comfy naps in the living room on a reliable recliner chair. You can find hundreds of recliner chairs and sofas in the market, but all of them are not made for sleeping.
It's quite hard to filter out the most comfortable recliner to sleep in. Various features like the functionality of the recline feature, backrest ergonomics, and padding in the seat decide whether a recliner is comfortable for sleeping or not.
Most Comfortable Recliners For Sleeping Overview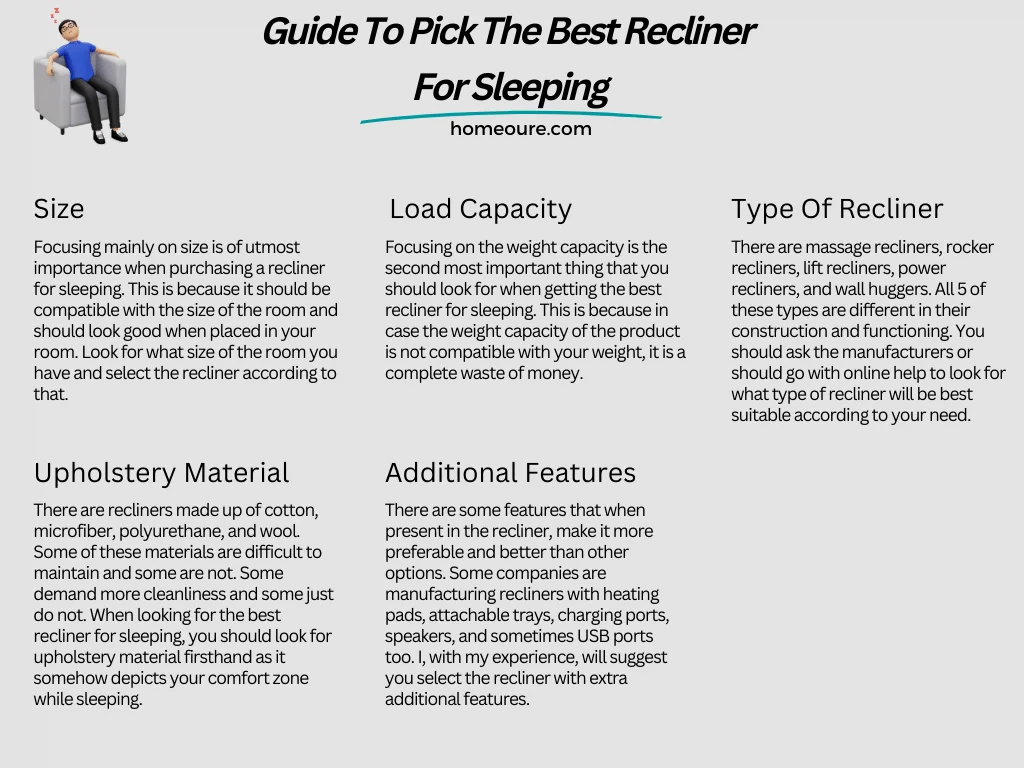 Top 10 Most Comfortable Recliners For Sleeping Reviews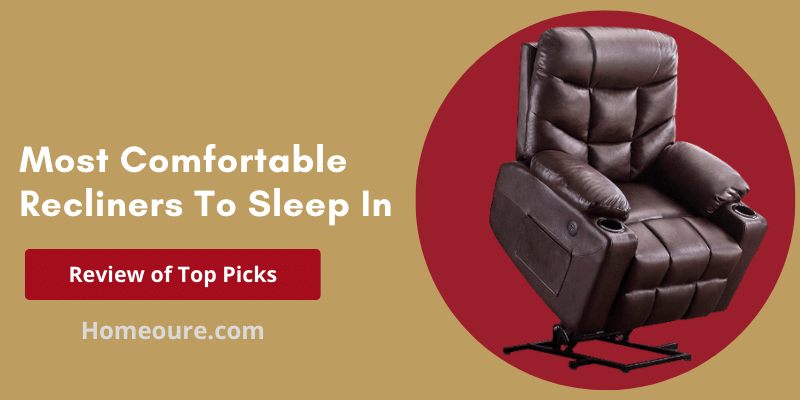 To help you choose the best recliner for sleeping, we have reviewed the ten best options.
A one touch away lifting perfectly aid the elderly to stand up without getting hurt. Featuring multiple position locks to attain the preferable angle. You can recline the Irene House 9188 to almost level and above any angle of it.
Retractable footrest allows easy reclining without raising the footrest. The beautiful and unique Craftsmanship with the finest material ensures it a perfect chair for any house.
Why I Recommended Irene House Flat Sleeping Recliner
The Irene House 9188 is absolutely jam packed with multiple great features to completely strain the pain off of joints. No worries if you find a gap when you lie all flat on the recliner, because the pillow given with the chair is responsible to fill that gap while providing you with more comfort.
This is an overstuffed recliner that comes with manual and power options. In power mode, you get the various reclining positions with a maximum reclining angle of 140 degrees. In the manual mode, you get three reclining positions like regular office recliners.
What makes the chair perfect for sleeping is its overstuffed padding and a comprehensive back support system. The responsive spring support combined with the block foam and poly fiberfill makes it exceptionally comfortable.
The high resilience foam offers decent support for the back and neck when you lay down. Plus and ultra-soft polyester upholstery acts soft on the body for added comfort and relaxation. We also loved the breathability offered by the chair. Plus you will get an optimized lumbar and high back support. The seat dimension of the chair is 20x24x21 inches.
It is not a big chair but the seat is so generously spacious offering plenty of room to lie down. Its professional-grade construction and stitching process ensures durability. The chair doesn't come pre-assembled and involves a complex assembly process.
For a damage-free process, it is recommended to go for a professional installation. Another downside of the chair is its weak swivel base. On the swivel feature, its weight limit is only limited to 250 lbs which is pretty disappointing.
Why I Recommended Ashley Ludden Rocker Recliner
Ashely Ludden Rocker Recliner with responsive spring support and generous seat space is undoubtedly the most comfortable recliner to sleep in. An overstuffed foam padding, power recline feature, and solid lumbar support make it impressively comfortable for sleeping and relaxing.
The chair offers 3 reclining positions and the maximum reclining angle is 140 degrees. The reclining feature is super smooth offering maximum comfort and relaxation in multiple positions. For added comfort and relaxation the recliner is equipped with a massage feature. It has various options for gentle to high-intensity body massage and helps you get rid of body pain in the best possible way.
The lumbar support is fully optimized and the high backrest makes it an excellent choice for sleeping. The lumbar support has an optional heating point that you can turn on and off as per your requirements.
High-density foam padding with a faux leather upholstery fabric makes the chair impressively comfortable. The faux leather is highly breathable making the chair perfect for a hot sleeper. Also, it doesn't catch the dust and stains making the clean-up and maintenance super easy.
The chair is an overall good option for people who want instant pain relief or a comfortable chair to sleep in. However, it is not a good option for taller people. The recommended height for the chair is between 5' to 5'6" and taller people may find it a little short to relax in, however, you can go through my article about best chairs for big and tall person to find the right one. The chair doesn't come pre-assembled and requires a professional assembly. You can get Amazon "Expert Assembly" service.
Why I Recommended Mcombo Electric Power Lift Recliner
Mocambo electric power recliner with high-density padding and highly supportive back-lumbar design is undoubtedly the best recliner for sleeping. It features a smart design and you will get two side pockets, a phone holder, a cup holder, and a USB charging port to keep your essentials at quick and easy access.
If you're pregnant, you can go through my guide about recliners for sleeping after pregnancy
The Homall recliner chair is a compact and lightweight option. The maximum weight it can support is 265 lbs-thanks to the sturdy build. The chair features a smooth reclining feature and you can adjust it at various positions. The recommended height for this chair is between 5' to 5'7". For taller guys, this chair doesn't offer decent headrest support. Another great news is that you can adjust the angle of the leg supporter.
This feature allows you to get the most comfortable position while lounging and relaxing. The chair uses a sturdy metal frame making it highly supportive and rugged. The high-density foam padding combined with PU leather upholstery makes it exceptionally comfortable and breathable. Unlike polyester upholstery, PU leather is pretty easy to clean. You can use a damp cloth and lint brush to clean the chair.
The back and lumbar support are decent and we didn't notice any issue with the back support system. Coming to its limitations, this chair doesn't offer effortless adjustments. For recline angle adjustment it taxes you a lot of force. Also after use for a few months, it starts producing squeaky annoying noises.
Why I Recommended Homall Recliner Chair
Homall recliner chair with padded seat and lumbar support is the best recliner for sleeping for on-budget enthusiasts. This chair combines a solid structure with a fully padded profile and wide recline angle making it the most comfortable recliner to sleep in.
If you're affected by sleep apnea then you should read about sleep apnea recliners
It has a high backrest with dedicated lumbar support for a healthy and comfortable experience. The recliner function is manual yet smooth. You can use your body weight to adjust the recline at various positions within a range of 151 degrees. The PU leather upholstery is rugged, breathable, and easy to clean. It doesn't absorb the liquid allowing you to clean it with a damp cloth.
The chair does come with leg support and a footrest. However, the footrest doesn't stay in place, which is pretty annoying. Also, the armrest is not well aligned with the base which is another downside of the chair. The chair is delivered partially assembled and includes all the necessary hardware that you need for assembly. We found it pretty easy to assemble.
Why I Recommended Comhoma Recliner Chair
Comhoma PU Recliner and rocker is a competitively priced option featuring a dependable design for maximum comfort. It combines a smooth reclining feature with dedicated lumbar support and headrest making it the most comfortable recliner to sleep in.
Padding is thick yet soft offering maximum comfort while lounging and sleeping. The chair has a manual control reclining feature with a maximum limit of 140 degrees. The recline feature is smooth and you can adjust it at multiple positions within this range. For the heating and massage features, it comes with a remote control allowing you to choose from various intensity levels.
This recliner by Esright includes smart design features. You will get two storage bags on the sides, a cup holder, and phone holders to keep your essentials at quick access. The chair is wide and tall making it perfect for people between 5′ to 5'9". The footrest is included but unfortunately is a little clumsy.
The footrest mechanism needs a serious improvement as it is also impossible to latch it down during use. It doesn't come pre-assembled but comes with the necessary hardware and instruction manual to make the assembly easy. You can also contact Esright technical support in case of any issue.
Why I Recommended Esright Massage Recliner
Esrsight Grey massage chair with fully controllable massage and heating feature helps it stand among the most comfortable recliners for sleeping. With ultra-soft padding and a supportive structure, this is the best recliner for sleeping.
You may also be interested to read about after surgery sleeping recliners
The chair is fully padded with high-density foam blocks making it highly supportive and responsive. Its dedicated headrest and lumbar support make it ideal to relax and sleep in. The best part of this chair is that it offers decent support for taller people. The high backrest combined with an extendable profile makes the chair perfect for tall guys upto 6'4".
It also comes with leg support and a footrest but unfortunately, this feature is not smooth. The footrest doesn't lock in place in the recliner feature. This feature is pretty dangerous if you're suffering from an injury or chronic back pain. The chair comes with high-quality leather upholstery. Leather is pretty easy to clean and also it offers breathability for added comfort while sleeping.
Although it is an inexpensive recliner you will get a massage feature which is a welcome addition. It offers a medium-intensity message and doesn't allow you to control the massage intensity. It comes partially assembled and includes the required assembly hardware. The assembly process is relatively simple and will not take you more than 30 minutes.
Why I Recommended BestMassage Recliner Chair
BestMassage recliner chair is the most comfortable recliner to sleep in that you can buy for under $150. With an extended backrest and lumbar support, it allows the taller people to relax and sleep in with maximum cushion and comfort.
The armrests are fully padded and with little effort, you can adjust the reclining angle of the chair. Also, it has a dedicated footrest and leg support. The footrest is fully adjustable and comes with a side latch that you can pull to adjust its position.
The footrest locks well in place giving you the most comfortable sleeping experience. It uses high resilience foam padding to add cushion and comfort.
It uses a velvet upholstery that offers a premium look and acts soft on the body. However, this material catches the dust and stains making it pretty hard to clean. The recliner comes with a wooden frame for maximum support and stability. The chair doesn't come pre-assembled and for a damage-free process, it is recommended to go for a professional assembly.
Why I Recommended ANJHOME Single Recliner Chair
ANJHOME recliner chair is the best recliner for sleeping as it comes with dependable leg support and a high backrest. It offers a smooth recliner feature and full-body support allowing you to sleep in and relax in the healthiest posture.
Not only does it a good thing for animal lovers but also a great cut down on its price. Yandel's recliner is extremely functional, super quiet and smooth when you use the power control, you do not even hear it. Do not worry if you are no more a spring chicken and worrying about its settlement, because the instructions are super clear and concise and would hardly take half hour to get it settled.
Why I Recommended Signature Design by Ashley Yandel Power Lift Recliner
Ashley yandel's recliner is oversized seat with a high backrest and a wide down seat to fit anyone with a maximum weight of 300 pounds. Another plus point is that it has a dual motor capability so the backrest and footrest functions independently.
Though a quick and a sound free transition between lifting, sitting and going all the way flat is done via control button that is secured in the armrest. It features five massaging modes with vibrations of two different intensities.
This chair seems easy to set up due to its minimalist size and is not recommendable if you have got a bulky posture. Esright Massage Recliner Chair is CARB certified board while its sturdy iron ensures to support your heavyweight. However, the thick padded headrest provides a good support to your skull.
Why I Recommended Esright Massage Recliner Chair
Overall the chair is a super good for the price with so many bonus features. If you are a mom then the heating and massaging is great to relieve your sore muscles after a hectic day. However, the two cup holder secured in each armrest to keep your refreshing juice while watching TV.
Guide To Pick The Best Recliner For Sleeping
There are certain important things that you should focus on when selecting the best recliner for sleeping. Since the product is expensive you should make sure that the product you're purchasing is worth spending money on.
The following features when present in the sleeping recliner makes it reliable and more recommendable than its other competitors. Look for the following features while purchasing the recliner for sleeping so that you can get the best out of the purchased product.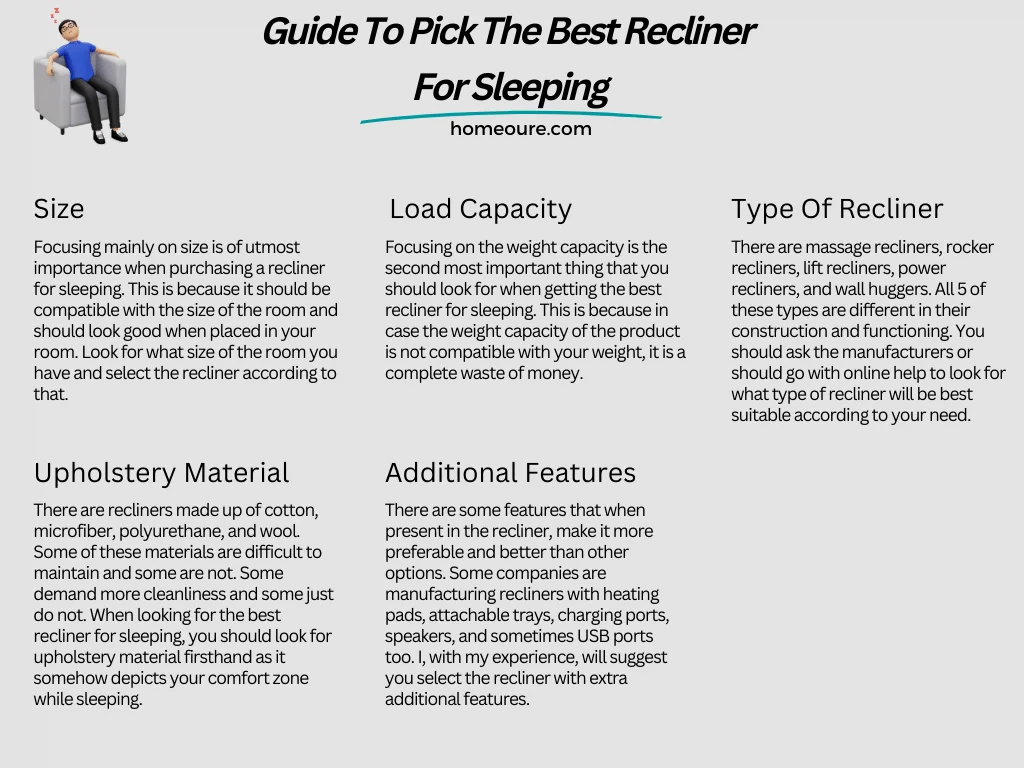 Size of Sleeping Recliner
Focusing mainly on size is of utmost importance when purchasing a recliner for sleeping. This is because it should be compatible with the size of the room and should look good when placed in your room. Look for what size of the room you have and select the recliner according to that.
Since there are different types of recliners both small and large so you should get the adequate one, based on both your need and storage space. This is why focusing mainly on size is the first and foremost important thing that you should look for when finalizing the recliner.
Recliner Weight Load Capacity
Focusing on the weight capacity is the second most important thing that you should look for when getting the best recliner for sleeping. This is because in case the weight capacity of the product is not compatible with your weight, it is a complete waste of money.
To make the product worth spending money on, the first thing that you should do is to look for your weight. And then should select the recliner with the weight capacity above your weight. In this way, you will get the product that will tolerate your weight without breaking down.
Type Of Sleeping Recliner
How can you ignore the type of recliner when purchasing the best recliner for sleeping? Of course, you cannot! You just cannot ignore the type of recliner because different types of recliners serve different purposes. There are massage recliners, rocker recliners, lift recliners, power recliners, and wall huggers. All 5 of these types are different in their construction and functioning.
All of these types serve you differently. You should ask the manufacturers or should go with online help to look for what type of recliner will be best suitable according to your need. Keeping this in mind, focusing on types of recliners is another important thing that you just cannot ignore when getting the best recliner for sleeping.
Recliner Upholstery Material
The material used in the manufacturing of the upholstery of the recliner is also not neglectable. There are recliners made up of cotton, microfiber, polyurethane, and wool. Some of these materials are difficult to maintain and some are not. Some demand more cleanliness and some just do not. When looking for the best recliner for sleeping, you should look for upholstery material firsthand as it somehow depicts your comfort zone while sleeping.
Additional Features of a Recliner
There are some features that when present in the recliner, make it more preferable and better than other options. Some companies are manufacturing recliners with heating pads, attachable trays, charging ports, speakers, and sometimes USB ports too. I, with my experience, will suggest you select the recliner with extra additional features.
This is because, of course, you are not going to spend money again and again on this product, so you should get the one that should serve you with multiple functions at a time for a longer time. So why not spend some extra money and get the recliner with some extra and beneficial features?
FAQs about Sleeping Recliners Comfortability
Can you sleep comfortably in a recliner?
You can sleep in a recliner comfortably if it features decent back support and cushion. Sleeping on the recliner is generally safe and it helps in relieving back pain.
How do I make my recliner more comfortable to sleep in?
Look out for the most comfortable recline position and fix your recliner at this angle. Then add solid lumbar support and footrest for added comfort.
Wrapping Up Sleeping Recliners Review
We can safely conclude the most comfortable recliner to sleep in is the one that combines solid back support with a dependable recline feature. All the options on our list are tested for quality and performance, but our top three picks from the list are:
We are hopeful that this review will help you choose the most comfortable recliner to sleep in. If you're suffering from an injury or chronic back pain it's advised to look for a power recliner. Power recliners are easier to adjust than their manual counterparts.