Since there is legion xerox to everything that just simply looks the same as the originals. Though, at times people might be looking for something genuine whereas others may want to stick to the cheaper ways by opting for artificial ones. However, PU leather is among the most common artificial leather. But buying the leather and differentiating between the genuine and the imitation can be bothersome.
Well, no worries! The further procession through the article will let you interpret most of the details on PU leather which is sometimes known as "Bi-cast leather". Thus, without any further due let us dig into the puzzling question of What Is PU Leather?
What is PU Leather? – Definition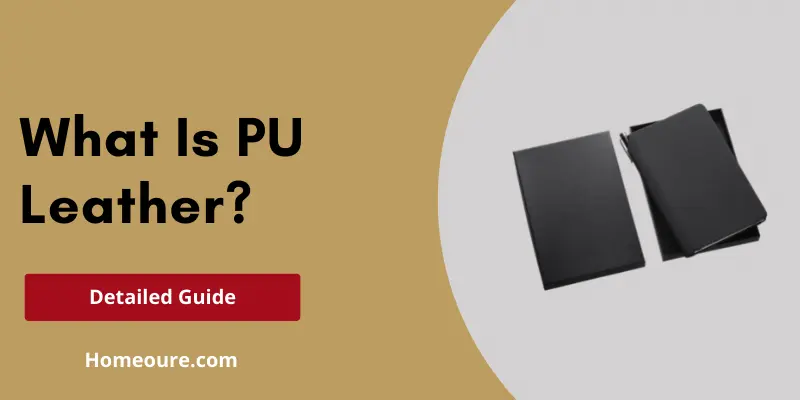 PU leather is an abbreviation for POLYURETHANE leather due to its overlaying involves polyurethane. But how does it stick to the surface? Does it come off after a considerable usage of time? Or do the genuine one and the polyurethane leather looks the same? Albeit, the process includes the vinyl leather which is then embossed with a polyurethane coating to create a look that is more like an original.
With that being said, PU leather often seems to be called out by multiple names, no matter what your intention to buy is, whether an artificial one or an original one, it is always good to know some of these names that you see on the tags of artificial leather products.
Advantages of PU Leather
It tends to get cleaned quite easily because of its composition being made of plastic. Also, its water-resistant nature helps one to get it clean in no time.
Since it is cheaper to produce therefore PU leather is quite cheaper to get hands-on.
Does not get dry over some time.
Disadvantages of PU Leather
Does not seem to last very long.
Over the usage time, it will start to crack and will peel off.
It emits some chemical or plastic sort of smell.
---
How to tell if it is PU Leather or Not?
Buying any object impulsively just by looking at its outer shine, can sometimes go wrong in your favor. Because you never know whether the product you are about to buy is genuine leather or PU leather.
Occasionally, there are tags attached to the product that helps clear out the misunderstanding. But sometimes you may not get to see any difference in between, therefore being able to differentiate between the two types can be useful.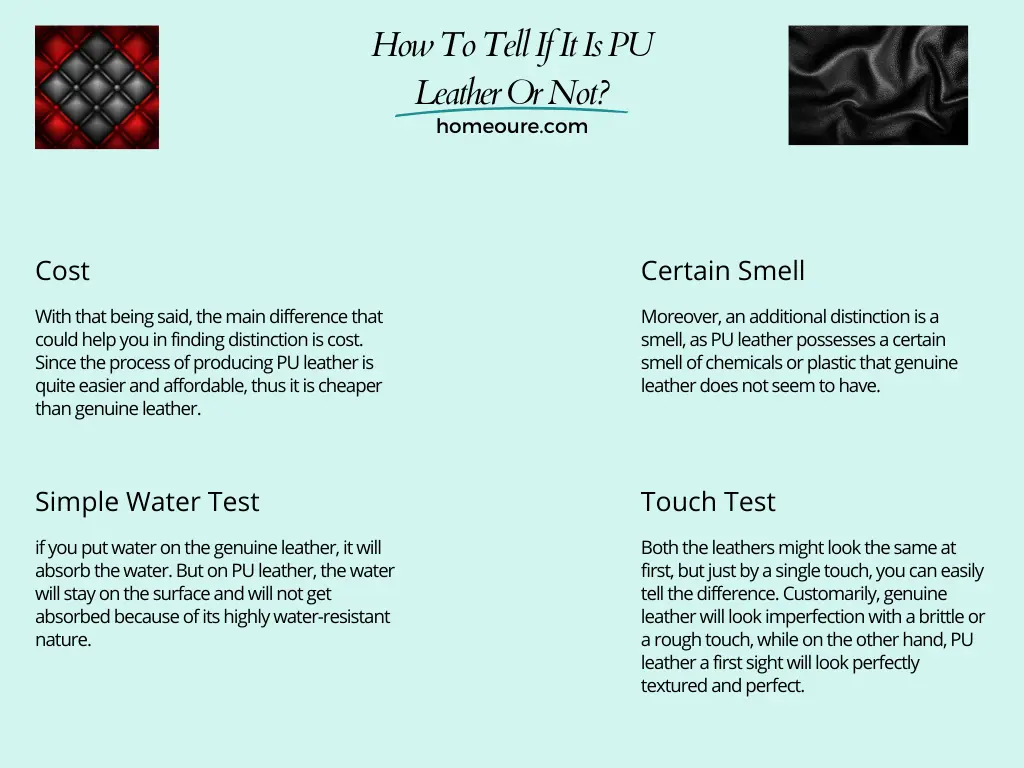 1. PU leather cost
With that being said, the main difference that could help you in finding distinction is cost. Since the process of producing PU leather is quite easier and affordable, thus it is cheaper than genuine leather.
2. PU leather smell
Moreover, an additional distinction is a smell, as PU leather possesses a certain smell of chemicals or plastic that genuine leather does not seem to have.
3. Water test to recognize PU leather
However, there is another method to determine the difference is a simple water test. But this water test will not be advisable when you do not own the product. In another case, if you put water on the genuine leather, it will absorb the water. But on PU leather, the water will stay on the surface and will not get absorbed because of its highly water-resistant nature.
4. Recognizing PU Leather by Touch Test
If you have a sharp brain and an eagle eye vision, you can easily determine which one is fake or which one is real. Both the leathers might look the same at first, but just by a single touch, you can easily tell the difference.
Customarily, genuine leather will look imperfection with a brittle or a rough touch, while on the other hand, PU leather a first sight will look perfectly textured and perfect.
You may also be interested to read about most comfortable chairs for watching TV
Concluding PU Leather Guide
If you are among those people who are looking for something on the cheaper side, something that offers multiple options when it comes to color. PU leather is that one option that could fulfill all your needs at once. But if you are looking for a genuine one then PU leather is not something you should look for.
Besides, there is a minor difference in between appearance of both, that requires some keen research and a sharp mind to find one. Here above we have elaborated some ways that might appear useful for you if you are completely unaware of what is PU leather? And how to differentiate between the artificial one and a genuine one.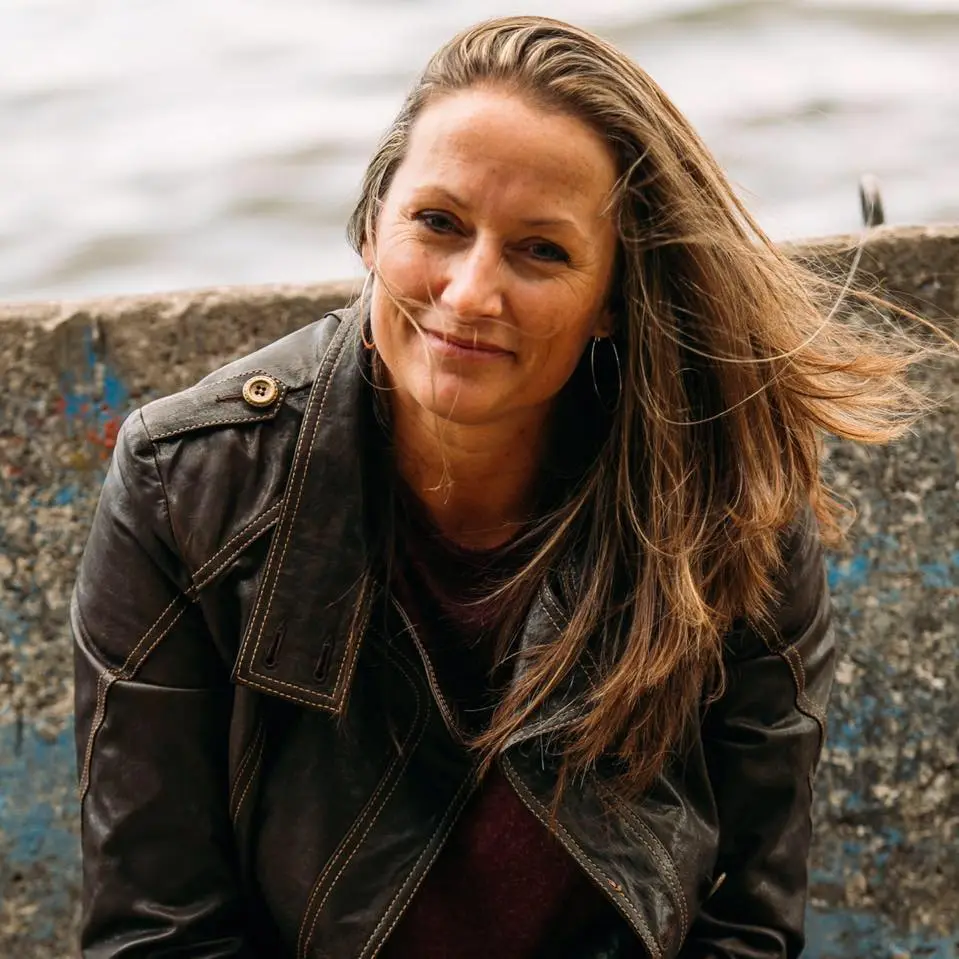 Hi, I'm Alexandra Adams, Interior Designer by profession! I has always been passionate about interior design and remodeling since my childhood. Following my passion, I graduated with a Bachelor of Fine Arts in Interior Designing and turned my passion into a profession. I have worked as commercial and residential interior designer to make homes and offices more functional while keeping their aesthetic.
Looking at my Interior Designing expertise, Terry Crews offered me to join his team to help him shape the very core of Homeoure. Feel free to contact me at anytime for queries related to your home and office furniture and other things related to designing.
Learn More about Homeoure and Alexandra Adams