Do you often think about the difference between a cushion and a pillow? Both of these objects are used for headrests, backrests, and also for sleeping. But the question arises of how both cushions and pillows are different. Basically, there is no technical difference or difficulty in understanding the dissimilarity. Pillows are used while sleeping, and cushions are used for the sake of decoration. Most people set cushions on the sofas or chairs for backrests.
On the other hand, pillows are used for headrests while sleeping. You can use them for the backrest, but a pillow is made for resting the head during sleep. Anyhow, we cannot sum up all the details in a few lines. In this guide, I will tell you the difference between pillow and cushions, their uses, and their advantages.
Cushion Vs Pillow Comparison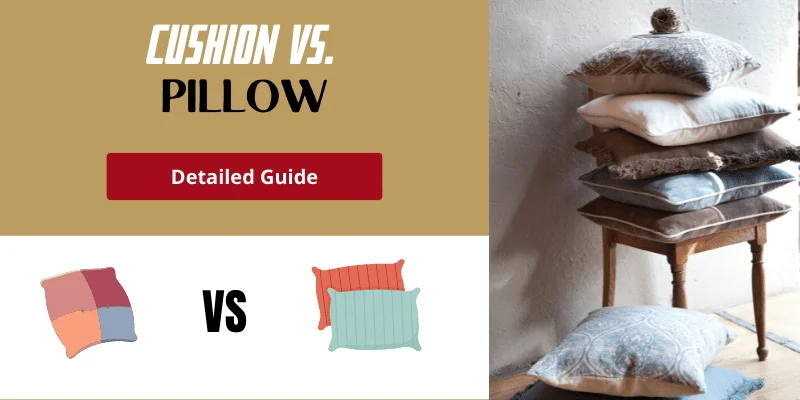 Mesopotamians started using pillows in 7000 BCE. These pillows were made of stone and uncomfortable for people, but they used pillows to solve recurring neck and back problems. The history of pillows is quite interesting; over time, people started using wool pillows to maximize comfort. On the other hand, cushions were also invented by the Mesopotamians in 7000 BCE, but these cushions were more like pillows. After 2 to 3 thousand years, Egyptians made proper stone cushions. The cushions are found in the pyramids.
In ancient times, people used two types of headrests and backrests; a small one for chairs and sofas and a big one for sleeping. Later both of those were named cushions and pillows, respectively. However, the Greeks started using more comfy pillows; later, Romans adopted them. Greeks and Romans used traditional pillows and cushions of the modern age.
What Is A Pillow?
A pillow is made of wool, polyester, or soft material to support your head while sleeping. Pillows are bigger in size than cushions. Using a pillow is beneficial for our backbone and neck. Sleep plays a crucial role in our daily life.
Psychologists and sleep experts differentiate sleep into two types; quality sleep and regular sleep. Studies show that using a pillow eliminates the chances of back pains and provides you with quality sleep.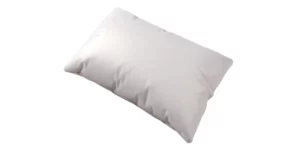 Experts claim that quality sleep improves memory, lowers the chances of mental problems like depression and anxiety, strengthens the immune system, and helps to digest food. Quality sleep is possible if you use a soft and suitable pillow for your head and neck.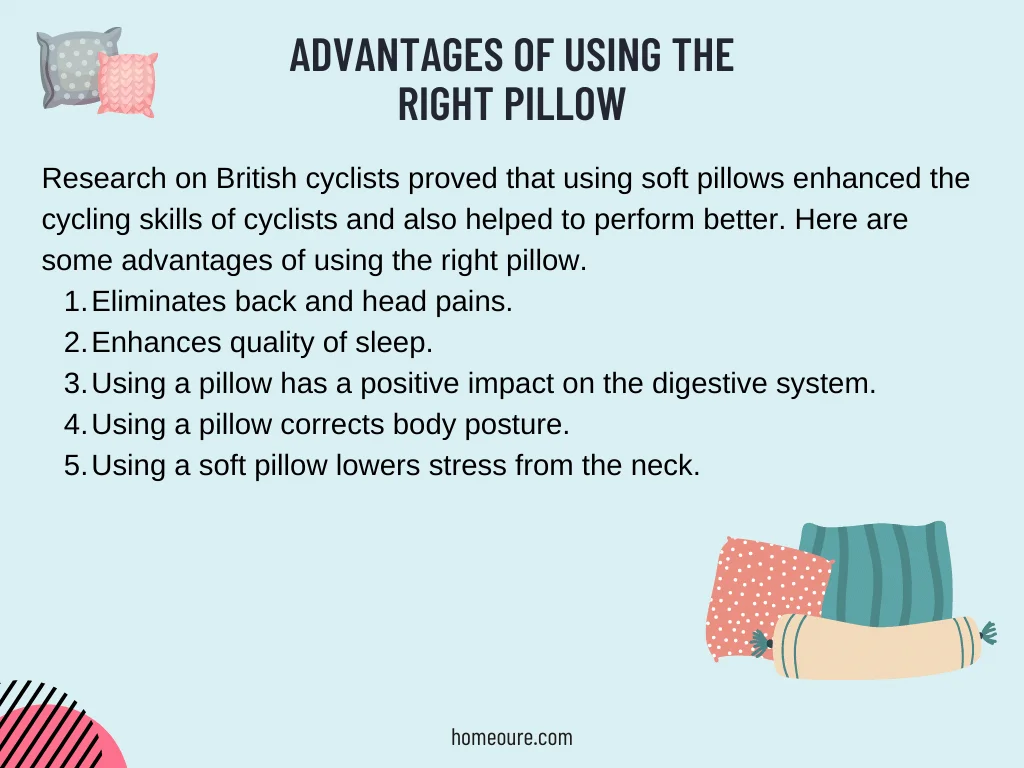 Research on British cyclists proved that using soft pillows enhanced the cycling skills of cyclists and also helped to perform better. Here are some advantages of using the right pillow.
Eliminates back and head pains.
Enhances quality of sleep.
Using a pillow has a positive impact on the digestive system.
Using a pillow corrects body posture.
Using a soft pillow lowers stress from the neck.
There is a list of benefits of using the pillow. Pillows help to sleep better and align the parts of our spinal. But finding the right pillow could be a challenging task. There are different kinds of pillows for your neck conditions and back pains to sleeping posture. Using the wrong pillow impacts your body posture, and the sleep cycle disrupts the digestive system and causes acne on the face.
How To Select Right Pillow?
You can use a traditional pillow if you do not have any back or neck problems. If you are a back sleeper, you should use a medium loft. This type of pillow will help to relieve pressure from your neck. A high loft is recommended for the side sleepers because it will perfectly maintain the balance between the neck and back.
Lastly, if you sleep on your stomach, you should use low-loft pillows. This type of pillow maintains the neutral alignment of the spine. If the pillow's loft is high, it will disturb your stomach and change your back posture.
During pregnancy, it is highly recommended to use chair cushions for pregnancy
What Is A Cushion?
A cushion supports your back while sitting on a chair, sofa, or bed. The term cushion is also used for soft and comfy seats on the sofa or stool. Today cushions are used for decoration. Most sofas come with creative cushions, including multiple designs and colors. But the purpose of a cushion is to support your back.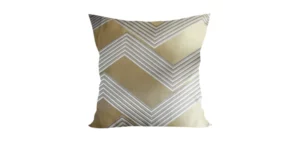 Some people use cushions to assist the neck while sleeping, but it is not recommended. Because cushions are smaller as compared to pillows and are not designed for the head. But there are countless benefits of using a cushion as a back support. First, it will help you sit longer than usual, and second, it will eliminate back pains.
You can also read about cushions for pressure sores on buttocks
Types Of Cushions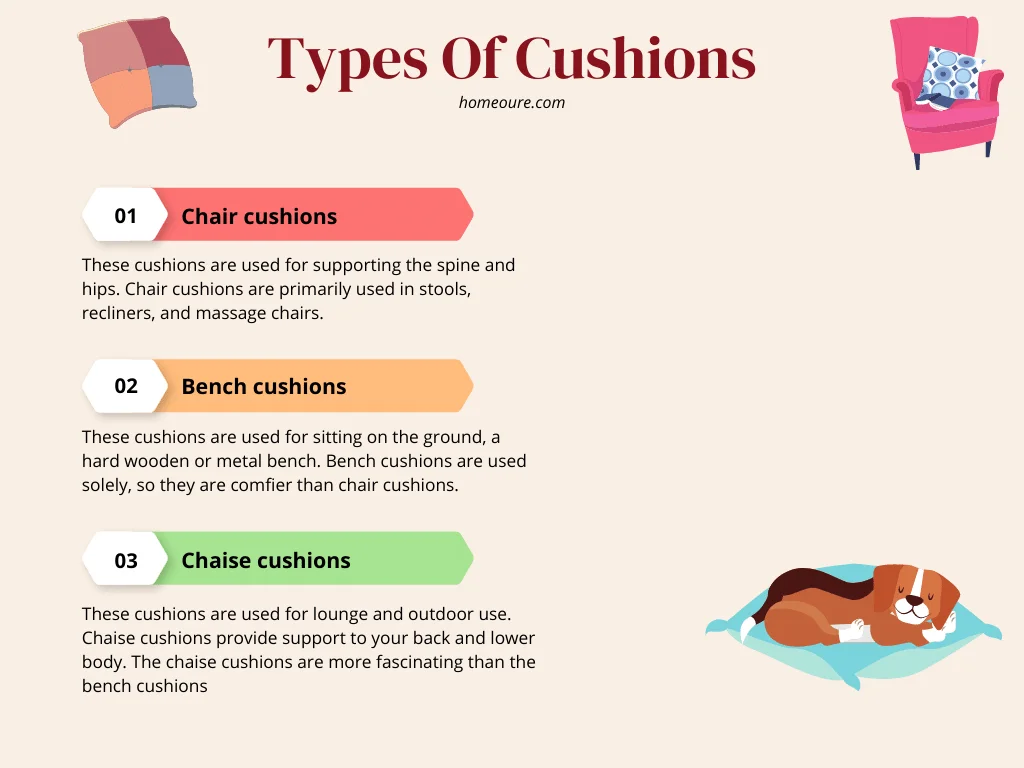 1. Chair Cushions
These cushions are used for supporting the spine and hips. Chair cushions are primarily used in stools, recliners, and massage chairs. If you sit on hard surfaces, you must use a chair cushion because hard places cause long-term pains and change the shape of your bones.
You can also have a look at my write up on best pressure sore cushions for recliners
2. Bench Cushions
These cushions are used for sitting on the ground, a hard wooden or metal bench. Bench cushions are used solely, so they are comfier than chair cushions.
3. Chaise Cushions
These cushions are used for lounge and outdoor use. Chaise cushions provide support to your back and lower body. The chaise cushions are more fascinating than the bench cushions as well as they are soft enough to eliminate all aches.
Frequently Asked Questions
Is it healthy to use pillows?
Yes, it is healthy to use pillows. The pillows help neutralize spine alignment, regulate blood flow, and provide cushioning to your neck.
Does cushion help back pain?
A soft cushion supports your spine to sit for longer. A soft cushion is a great choice if you suffer from lower back pain. It will eliminate pain plus align the body parts.
Concluding Cushion Pillow Difference
Both pillows and cushions are used for comfy sitting and sleeping. Pillows are bigger in size and used for sleeping, but traditional cushions are smaller and used for supporting your back. Creative cushions are also part of the decoration.
There are multiple types of cushions, such as bench cushions, chair cushions and chaise cushions. On the other hand, pillows also have a variety of lofts and sizes. There are pillows for back sleepers, side sleepers, and people who sleep on their stomachs.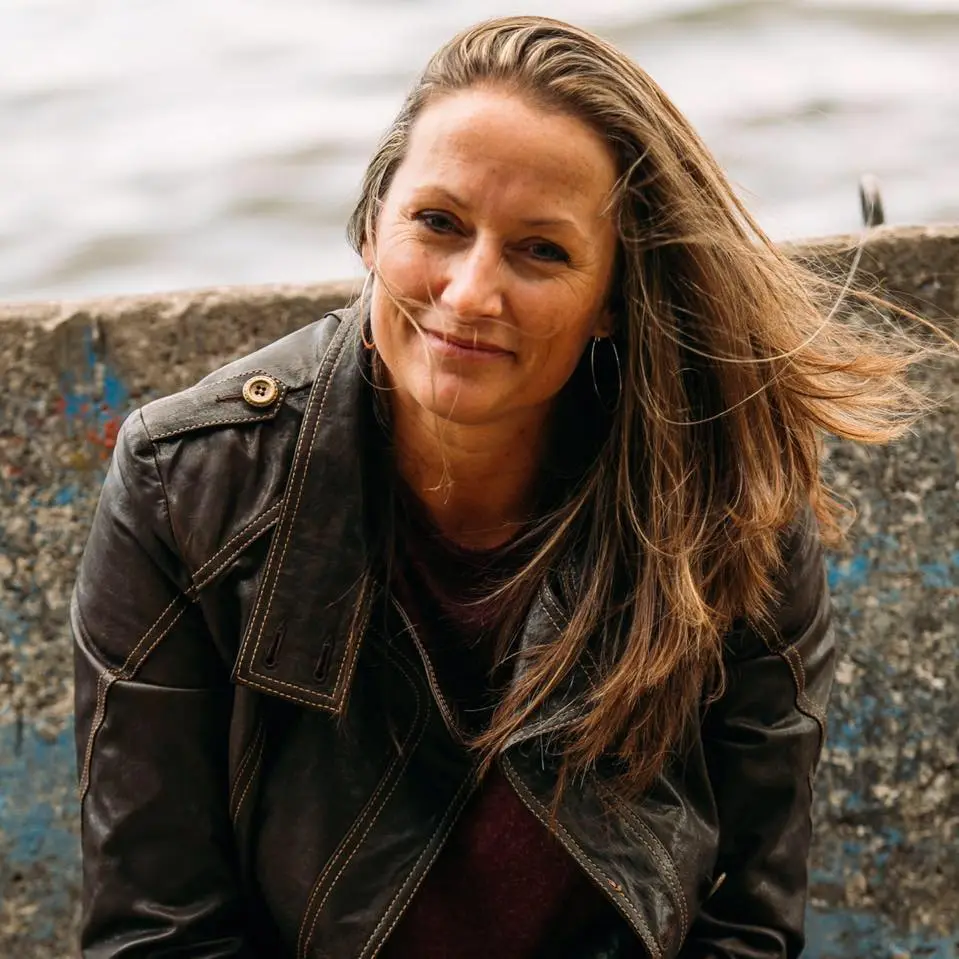 Hi, I'm Alexandra Adams, Interior Designer by profession! I has always been passionate about interior design and remodeling since my childhood. Following my passion, I graduated with a Bachelor of Fine Arts in Interior Designing and turned my passion into a profession. I have worked as commercial and residential interior designer to make homes and offices more functional while keeping their aesthetic.
Looking at my Interior Designing expertise, Terry Crews offered me to join his team to help him shape the very core of Homeoure. Feel free to contact me at anytime for queries related to your home and office furniture and other things related to designing.
Learn More about Homeoure and Alexandra Adams