Recliner chairs are among the most preferred options for the elderly since they come in highly dependable designs and user-friendly ergonomics. The dependable profiles of recliners have made them perfect for people with chronic back pain, muscle strains, sleep apnea, and other sleeping disorders.
Knowing what makes a recliner perfect for the elderly is critical to finding the best option. While buying the recliner for the elderly to sleep in, we need to keep the sensitive body conditions and limited mobility of the elderly in mind. Considering all these features, I found CANMOV Recliner Chair as one of the best power recliner for seniors to sleep in.
Are Recliner Chairs Good for Elderly to Sleep in?
Recliner chairs are generally considered safe for elderly to sleep in. Recliners add comfort and relaxed posture which allows seniors with sleeping disorders and chronic back pain to sleep comfortably.
Best Recliner for Elderly to Sleep In Overview
7 Best Recliners for Elderly to Sleep In Review
To help you find the best recliner for the elderly to sleep in, we have selected and reviewed the seven best options you can find today.
The chair's overall dimensions are 35x41x38 inches and come with an extra-wide seat allowing you to position your body in the most comfortable posture. What we found most impressive about this recliner is its ultra-smooth recline function. A button push allows you a jerk-free recline at around 145 degrees, perfect for the elderly with fragile bones and muscles.
For a complete 145 degrees recline, that chair needs at least 6 inches of leverage, and you should place the chair accordingly near the wall. In addition to outstanding recline features, you will get a fully padded seat, a highly comfortable backrest, and a footrest.
Thickly padded backrest and seat cushions your body without limiting support, making it a perfect recliner to sleep in. The footrest is another excellent addition that lets you sit and sleep in the most relaxed posture. The only issue we experienced is that the footrest is not adjustable and may not suit taller people.
CANMOV power lift recliner uses a velvety microfiber texture, a highly breathable and non-absorbing surface. The surface is highly resistant to fading, damage, or ripping, and we also found it pretty easy to clean. Also, it comes partially assembled and takes less than an hour to get fully assembled.
Why I Recommended CanMov Power Lift Recliner
CanMov Power Lift Recliner offers unmatched comfort and stability with its highly-padded seat, supportive structure, and ultra-smooth recline feature. Additionally, it uses high-quality material, making the chair exceptionally rugged for long-lasting performance.
Is your elderly affected by scoliosis? If yes, have a look at Best Recliner for Scoliosis
Additionally, the high-density foam padding coupled with a sturdy steel frame ensures optimum comfort and support. The high, thickly padded seats, backrest, and footrest are highly breathable and act soft on the body without limiting the support.
Plus, the sturdy steel frame offers incredible support and takes the chair's weight holding capacity to 265 lbs. The PU leather upholstery is durable and non-absorbing, making it pretty easy to maintain and clean. However, it is highly prone to scratches, especially if you have pets in your home.
The chair features a compact design without limiting the seating capacity and is ideal for small rooms also. The chair comes with no-mar rubber feet that prevent scratches and marks on the floor, making the chair ideal for wooden floors.
Homall Recliner Chair comes partially assembled, and all its parts easily slide past each other to get in place. However, it is advised to seek professional help for a quick and damage-free assembly.
Why I Recommended Homall Recliner Chair
Homall office chairs and recliners are famous for their dependable ergonomics, and this recliner by Homall is no exception. Its highly breathable high-density padding and impressively adjustable recline feature help it stand out as one of the best recliners for the elderly to sleep in.
You can adjust the chair recline between 90-150 degrees to take the most comfortable posture while relaxing and sleeping. Plus, a 360-degree swivel enhances mobility and allows you to look in every direction without moving your body. The most loved part of the chair is that it offers the ultimate comfort and cushion without limiting the support.
The upper layer of the padding is soft and less thick for hugging and sinking feeling. The thick inner padding combined with a sturdy steel frame offers exceptional support for weak muscles and bones. Additionally, it has a massage feature with five different modes that work on two different intensity levels.
The chair comes with a power cord and remote control, offering easy access to all its features. Also, it has a heat function that helps relieve muscle and back strain. Finally, you would get two cup holders and a storage bag along with the chairs so that you can keep your essentials at quick access.
Why I Recommended Esright Massage Recliner Chair
Esright massage chair with 36-swivel and heat feature is an effective solution for bone and muscle injuries. The chair's smooth recline feature coupled with ultra-soft supportive padding makes it the best recliner for the elderly to sleep in.
Faux leather is highly resistant to scratches and acts gently on sensitive skin. Moreover, its fully padded backrest and seat offer a hugging feel while napping and lounging. The high-density foam ensures comfort without sacrificing the necessary support. Since it is a power recliner, you can adjust the recline by a button push.
The lift feature helps the elderly to sit and stand easily without exerting extra pressure on the knees. What we loved most about this recliner were the massage and heat features. Five different massage modes and intensity levels help the seniors relieve chronic back pain and minor muscle injuries.
The lumbar support and adjustable heat points add to the comfort level making the recliner perfect for the elderly. Also, it comes with super-friendly ergonomics, and you will get everything from a cup holder to USB charging port and storage pockets. The storage pockets are pretty helpful in keeping medicines and all the essentials at quick access.
Faux leather doesn't attract dust and stains and is pretty easy to clean. You can clean the chair with a damp cloth, and it doesn't need special detergents. Finally, the chair doesn't come pre-assembled, but the package includes everything you may need to fix everything. It is advised to seek professional help for perfect and damage-free assembly.
Why I Recommended Mcombo Electric Power Lift Recliner
Mcombo Power lift recliner is the perfect choice for chronic pain sufferers and seniors with low mobility. The fully padded structure coupled with ultra-smooth recline features makes it one of the best recliners for the elderly to sleep in.
The unique design of the chair is divided into different sections. The seat is divided into two sections. One unit features high-density foam padding, while the other comes with independently warped pocket coil springs.
They have also added a full padded armrest and a leg support section to enhance comfort. This additional leg support offers incredible comfort while sleeping. The microfiber upholstery is super-soft and breathable that is perfect for sensitive skin. However, it is highly absorbing in nature and requires extra care and regular maintenance to keep it free of dust and stains.
Also, you may need detergents to remove the spill stains. You can place the chair anywhere in the living room since it requires only 4-inch space from the wall for a full recline. HandyLiving ProLounger Wall Hugger recline lever is placed on the side for quick and easy access. The recliner is partially assembled, and the package includes everything you may need to get it fully assembled.
Why I Recommended HandyLiving Pro Lounger Recliner
Handy Living Wall Hugger recliner comes with foam padding with spring coil support for maximum cushion and support. Its highly breathable microfiber upholstery, additional leg support, and fully padded footrest and armrest make it a perfect recliner for the elderly to sleep in.
If you're looking for a wall hugger recliner, have a look at best wall hugger loveseat recliners
A highly stable metallic frame enhances the support, while overstuffed pillow cushions your body for maximum comfort. The recliner comes with soft yet breathable foam padding making the chair highly comfortable for extended periods. The overstuffed padding is also present in the armrest and footrest, offering maximum relaxation during the lounging and napping sessions.
The power recline feature allows you to adjust it between 90-145 degrees, and the jerk-free motion makes it perfect for seniors with chronic body pains. Control buttons are provided at quick access so that elderly with low mobility can operate the recliner independently. The weight-holding capacity is more than 265 lbs., and it is the perfect option for heavy sleepers.
The chairs supportive design coupled with high-density padding adapts well to the body, relieves the body aches, and allows you to sleep comfortably. The adjustable footrest makes it highly dependable, allowing you to get the most relaxed and comfortable posture. You will also get a USB charging port, but unfortunately, it doesn't come with cup holders or storage pockets.
Why I Recommended ANJ Electric Recliner
ANJ electric recliner with overstuffed padding conforms to the body and offers a hugging feel, making your sleeping sessions highly comfortable. Chronic pain sufferers, the elderly, and people with low mobility can easily control all its features by the two buttons provided at quick access.
However, it features a pushback recline which means you have to push your back against the backrest to adjust the recline. Therefore, it is not a great option for people with serious injuries or back pain issues.
Moreover, its sturdy metallic frame, thickly padded seat, and backrest offer incredible comfort. Also, it comes with an additional support section for legs between seat and footrest, making the recliner ideal to sleep in. The fully padded headrest and footrest enhance comfort, making it ideal for lounging and sleeping. The leather upholstery makes it exceptionally soft and breathable.
Also, it doesn't absorb dust and spills and offers effortless maintenance and cleaning. The best part is it is available in five different colors allowing you to choose the one that goes best with your home decor.
Why I Recommended FDW Recliner Chair
If you are looking for an affordable and compact recliner for your home, this is the best option you can have. From an adjustable profile to breathable construction and fully padded design, it has everything that you can expect from the best recliner for the elderly to sleep in.
You may also be interested to read about Best Recliner for Degenerative Disc Disease
Things to Consider to Get the Right Recliner for Seniors
Knowing what makes a recliner chair ideal for the elderly is critical to making a safe investment. Certain features like soft texture for sensitive skin, breathable construction, smooth recline, and easily accessible functions make a chair perfect for the elderly.
To help you make a wise decision, we have composed this buying guide discussing all the features you must look for while buying a recliner for the elderly to sleep in.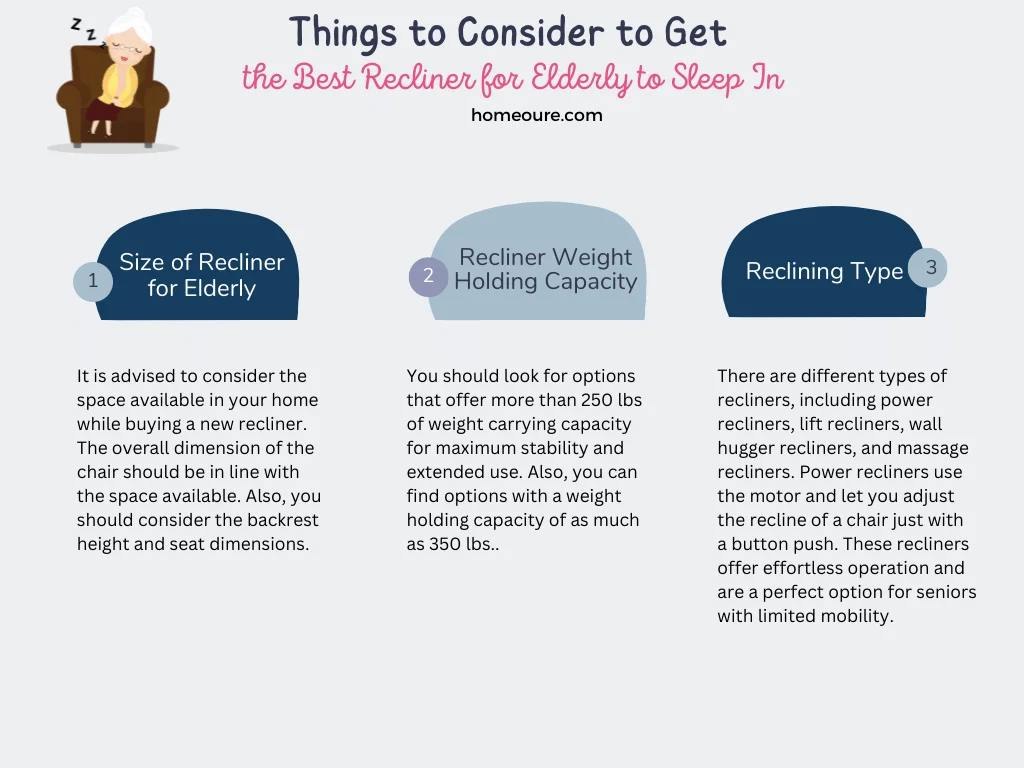 Size of Recliner for Elderly
Size is the most general consideration while buying furniture for your home. It is advised to consider the space available in your home while buying a new recliner. The overall dimension of the chair should be in line with the space available. Also, you should consider the backrest height and seat dimensions. A recliner with a high backrest and wide seat will not limit your options, and you will have enough room to position your body comfortably.
Recliner Weight Holding Capacity
The next thing you need to consider is the weight holding capacity. You should look for options that offer more than 250 lbs of weight carrying capacity for maximum stability and extended use. Also, you can find options with a weight holding capacity of as much as 350 lbs, and these are the perfect option for obese people.
Reclining Type
There are different types of recliners, including power recliners, lift recliners, wall hugger recliners, and massage recliners. Power recliners use the motor and let you adjust the recline of a chair just with a button push. These recliners offer effortless operation and are a perfect option for seniors with limited mobility.
However, you need to place the power recliner near an electric socket. Wall Huggers are a unique type of recliners that offer limited movement for maxim reclining and can be placed close to the walls. This type of recliner is ideal when you have limited space available in your home.
The lift recliner is adjustable in terms of height but doesn't offer a smooth recline making them less suitable for the elderly. Massage recliners are ideal for people with muscle and back strains. Different massage modes and intensity levels, along with heat features, help seniors deal with back pain and muscle strains.
Are you or anyone in your surrounding is affected by spinal stenosis? If yes, you can go through my article on Best Recliners for Spinal Stenosis
Upholstery Material of a Recliner
Upholstery material is crucial since it directly comes in contact with the skin. For sensitive skins of the elderly, you must go with an ultra-soft fabric with maxim breathability. PU leather and microfiber with velvety texture are the two best options for seniors. Additionally, you consider the ease of cleaning and fabric's ability to resist damage and scratches.
You must go with an upholstery option that is non-absorbing in nature and has minimum cleaning requirements. PU leather is non-absorbing in nature, and you can easily wipe out all the dust and stains. However, it is not a good option if you have pets at home since it is highly prone to scratches.
Recliner Padding
The seat and backrest padding should be soft yet supportive. Medium-density foam offers incredible support without limiting the cushion and recliner's hugging feel. Also, you should look for a fully padded backrest, armrest, and footrest for maximum comfort while sleeping.
Construction Quality of the Recliner
Rugged construction ensures extended use with minimum wear and damage. Frame construction is important, and stainless steel is the best option to go. Sturdy stainless steel offers incredible support and promises long-term performance with minimum damage.
A wooden frame is also a great option, but high-quality wooden frames with pest-resistance properties are expensive. Wooden frames are more stable than steel frames and offer ultra-smooth recline.
Are recliners good for the elderly?
Yes, recliners are good for elder people if you choose the right one for them. They can easily read books, watch TV, and take nap while sitting on same place due to multiple reclining positions and remote control.
Does sleeping in a recliner help with sleep apnea?
Yes, recliner chairs are found really helpful to deal with sleeping disorders like sleep apnea. The right sleep apnea recliner's highly adjustable profiles and reline features allows you to keep your body in the most relaxed posture, which ultimately helps you deal with sleep apnea and body aches.
Final Thoughts about Sleep Recliners for Seniors
So we have lined up one of the best recliners for the elderly to sleep in. After testing dozens of options on the market, we chose the seven best that we found ideally in line with the needs of the elderly and people with limited mobility. All the products on our list are tested for quality and performance, our top-three picks are
While buying the recliner for the elderly to sleep in, you must go with the option with a smooth and maximum recline. The higher adjustability option lets you get the most comfortable positions allowing you to sleep comfortably. Also, you should look for highly breathable construction to deal with body heat during long nap sessions.