Are you looking for a sofa to add comfort to your living room? Then you surely find it challenging to pick the one between a recliner and a regular sofa. Buying furniture is a long-term and big investment; it is often like a one-time investment.
Also, a couch determines the overall appearance of your lounge. Therefore, getting one that provides maximum comfort and comes with advanced features is important.
Recliner Sofa vs Regular Sofa – Detailed Comparison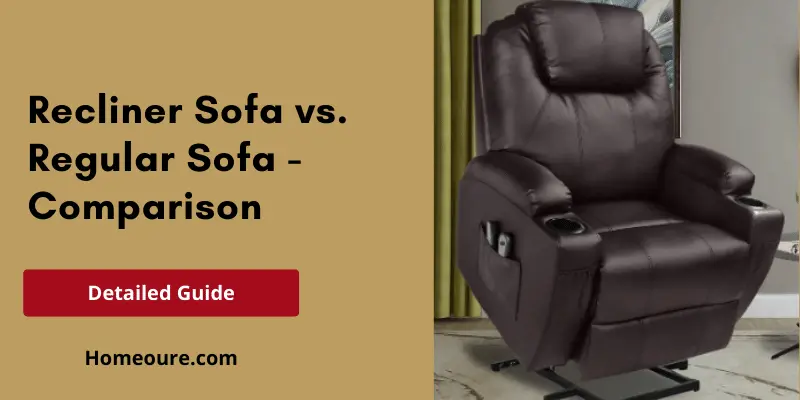 Both types of sofa have their own pros and cons based on your preferences. So there is no perfect sofa based on its features. However, you get the perfect one by considering your needs. This article will cover everything to help you find the best sofa for your space. Also, I wrote a detailed guide about different types of recliners.
What is a Recliner Sofa?
Recliners have been a popular choice since the 1920s because of the comfort level they provide. They are similar to regular sofas but have additional back support and back reclining features that ensure you get enough back support with required comfort.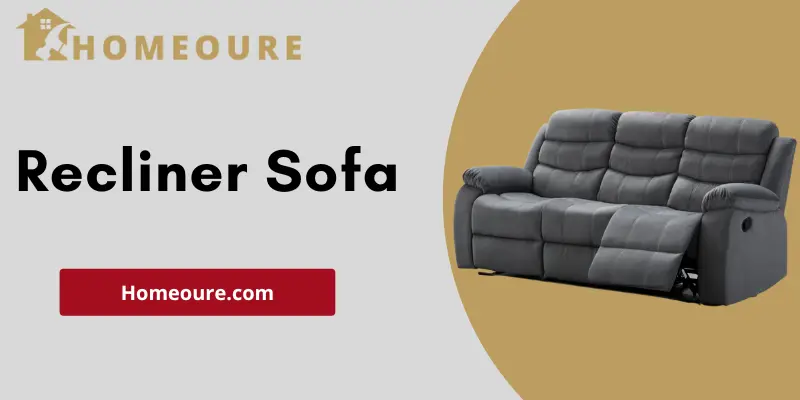 However, recliners are still not suitable for every person and every space. It would be best if you considered multiple factors to pick one to add ease to your life. If you're affected by back pain, you can choose one from best recliners for back pain guide.
How is a Recliner Sofa Different From A Regular Sofa?
Read these differences to choose with all the convenient features that you want.
1. Comfort Level
In terms of comfort, recliners win the show as recliner have good back support and leg support that allows you to elevate them when you get tired. On the other hand, regular sofas are comfortable enough but if you want something extra to make your place cozy and friendly, pick a recliner.
2. Space
Recliners are pretty big in comparison to regular sofas. You must consider this significant factor while keeping available space in mind. A standard sofa is the best pick if you have a small space. On the other hand, if you have enough space to accommodate a recliner, you should consider one to add comfort.
3. Price Comparison of Recliner Sofa vs. Regular Sofa
Before keeping your hand on a sofa, consider your budget because recliners are a little expensive. The reason for the high cost is additional features and size. If you have enough budget, then don't compromise on these advanced features. However, unfortunately, if you have limited money, a regular sofa can cover good comfort too.
4. Functionality
A regular sofa lets you sit with armrests, but a recliner comes with leg rests and extra back support. If you want to make your space a bit futuristic, then a recliner is what you need. However, you can choose a traditional sofa if you are more into simple things.
5. Looks and Construction
It is unacceptable to compromise on looks. Luckily, you can get appealing looks in both types. For precision, a regular sofa suits you the most if you want variety in structure. In contrast, the recliners have fewer choices in construction as they come with leg rest and back and arm support. You can also read about best recliners for heavy person.
Reclining Sofa vs Regular Sofa: Which is Better For You?
There is no clear answer to this question as it depends on your preferences and needs. For example, if you are a person who wants extra comfort and style and has enough budget and space. The recliner is the most suitable option. On the other hand, if you are more toward simple and basic things and have a tight budget with less space. A regular sofa is the best pick for you.
FAQs about Recliner Sofa
What are the benefits of a recliner sofa?
Recliner sofas are designed to provide maximum support without compromising on structural aesthetics. A recliner sofa lets you enjoy your free time comfortably by giving extra back support, padding, and leg rest.
Is a reclining sofa worth my money?
There is no answer for this in yes or no. If you get what you were looking for in a recliner, it is definitely worth your money. However, if you are not interested in the colossal structure and want things minimal, then there are chances that it isn't worth your money. Look at your preferences to get a correct answer.
Can I lay down on a recliner sofa?
Yes, you can lay down easily on a recliner because of its huge size and padding. Moreover, if you are suffering from back pain, sleep apnea, and GERD, you should pick a recliner sofa for a good night's sleep.
Wrapping Up Regular Sofa vs Reclining Sofa
Recliner sofa vs regular sofa, both come with their own benefits and features. Before selecting a sofa for your living area, it is essential to look at all factors like budget, required comfort, space, etc. Never overlook any of these factors if you want to get a sofa worth your money.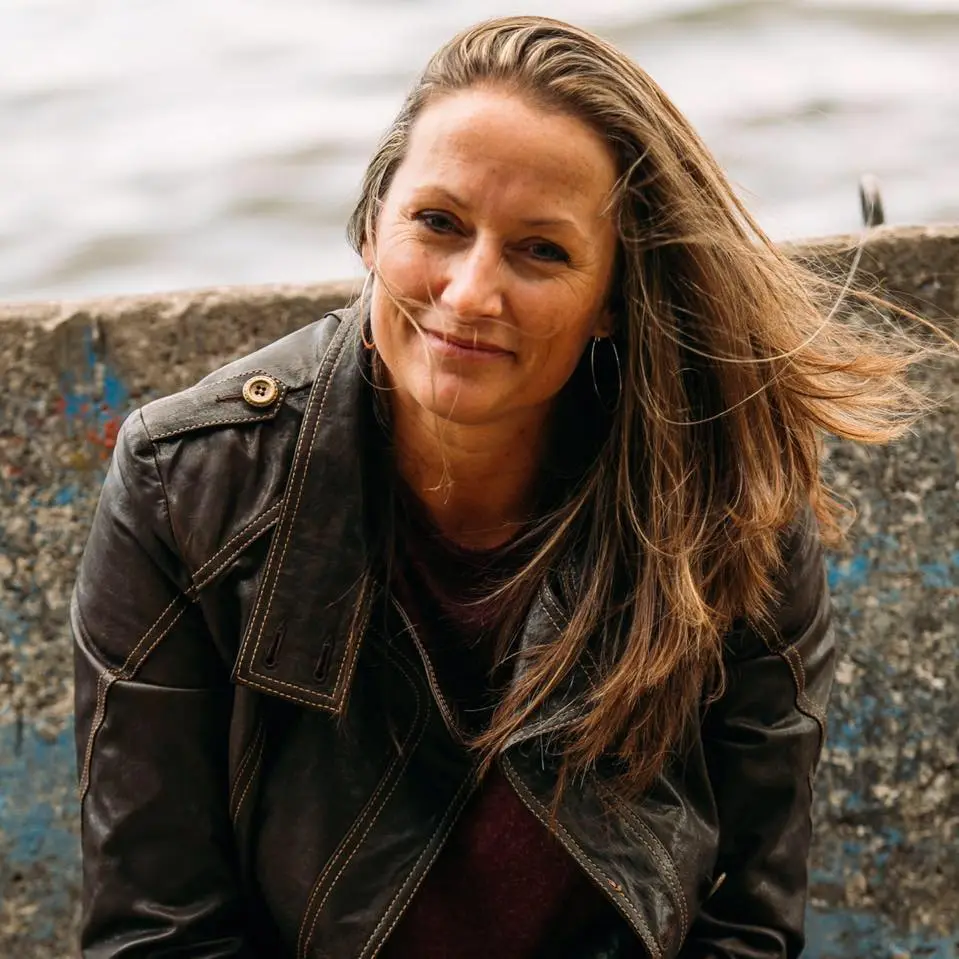 Hi, I'm Alexandra Adams, Interior Designer by profession! I has always been passionate about interior design and remodeling since my childhood. Following my passion, I graduated with a Bachelor of Fine Arts in Interior Designing and turned my passion into a profession. I have worked as commercial and residential interior designer to make homes and offices more functional while keeping their aesthetic.
Looking at my Interior Designing expertise, Terry Crews offered me to join his team to help him shape the very core of Homeoure. Feel free to contact me at anytime for queries related to your home and office furniture and other things related to designing.
Learn More about Homeoure and Alexandra Adams