Microfiber fabric is preferred by users, specifically for its ability to provide users with comfort and breathability. Similarly, this alternative is generally inexpensive and stain-resistant. However, you cannot escape from the cleaning process as it tends to get dirty now and then, making it important to maintain it regularly.
However, people are often confused as to what to use in order to not ruin or fade the fabric. Wondering how to choose the right cleaning equipment? How to clean a dirty microfiber recliner? What is the most efficient way to prevent spots and dirt from microfiber recliners? Below I have answered all of these questions in detail.
How to Clean a Dirty Microfiber Recliner?
Well, to save your day, I have included some tips and tricks that can help you along the way.
Things you would need to clean a Dirty Microfiber Recliner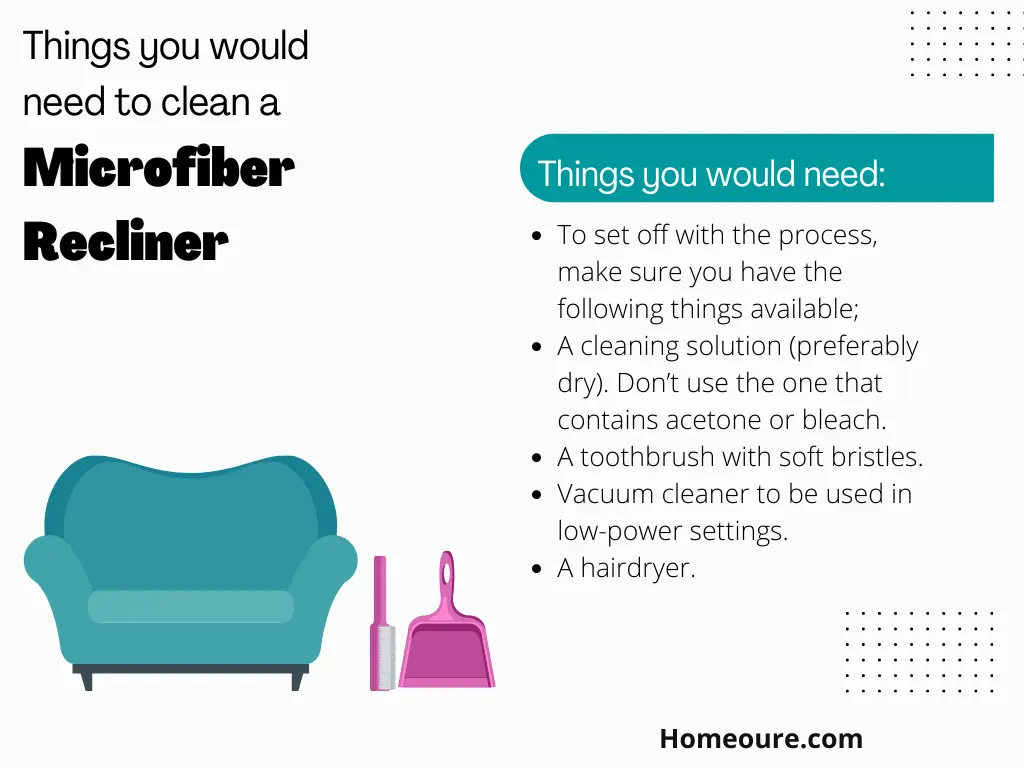 To set off with the process, make sure you have the following things available;
A cleaning solution (preferably dry). Don't use the one that contains acetone or bleach.
A toothbrush with soft bristles.
Vacuum cleaner to be used in low-power settings.
A hairdryer.
Microfiber Recliner Cleaning Process
To start off with the process, first of all, use your vacuum at low-power settings to get all the dust and debris out of the recliner. Never use high-speed settings as they can wrinkle and damage the surface of the fabric.
Now, always work with one section at a time. Sprinkle some detergent or your preferred cleaning solution on the area you are currently working on.
After this, use the brush and gently start scrubbing. Make sure you are maintaining a circular motion as it can make the process fast and efficient.
Once you are done, make sure you vacuum this area again to keep it dry.
If you still notice some stains and spots, it is time to use a dry cleaning product. However, make sure it is approved by the manufacturer.
How to Clean Spots and Dirt from the Recliner?
If you have a light-colored recliner, you most probably know the struggle of cleaning and maintaining one. This is because a stain or mark becomes more easily visible on light colors than it is on dark colors. To treat these spots, I simply use a dry cleaner and toothbrush mixture that not only clears it from potential stains but makes sure there remains no dirt on the recliner.
Here, I would further advise you to go for a toothbrush that has soft bristles, so that there is no damage to the fabric. This is because a dry cleaner can help you in preventing any watermarks on your brand-new recliner.
However, if you are not satisfied with it and still want to go with a water-based cleaning solution, it is recommended that you go for baking soda and water mixture. It doesn't leave a spot on the recliner, even after cleaning. Make sure you are going in a circular motion with the toothbrush.
Do you like to have a camo recliner? If yes, have a look at my guide about best camo recliners
How can you prevent Spots on Microfiber Recliner?
There is no doubt that prevention is always better than cure. Hence, it always makes sense to be careful with your recliner, so that there are no issues in the longer run. For this purpose, I would advise you to go for professional treatment as they last long and offer absolute protection against spots and fading. If you are doing it yourself, just make sure the entire process takes place in a well-ventilated area.
You may also be interested to read about stressless recliner chair alternatives
Tips and Tricks to make your Recliner Chair Safe
Always make sure you have checked whether the furniture you are using is washable or needs a dryer for regular maintenance. For cleaning, I would recommend you first remove the cushion cover to prevent watermarks on the recliner.
Don't get lazy with liquid spills and clean them instantly. This is because, if left for long, the recliner can absorb the liquid, providing you with stains and spots.
To prevent any damage, make sure you are at least vacuuming the recliner once a week. However, don't use it in high-power settings as it can potentially wrinkle and damage the fabric of your recliner.
Always use a hair dryer to get all the water after cleaning. This will keep your recliner moisture-free and dry.
Don't use carpet cleaners or any cleaning solution that contains bleach or acetone as it can fade the color of your microfiber fabric.
FAQs about Microfiber Furniture Cleaning
What is the best way to clean microfiber furniture?
Well, there are a number of methods you can use to clean microfiber furniture. However, I like to use them combined with one another. For instance, my go-to equipment for cleaning is a toothbrush, vacuum cleaner, and a cleaning solution (preferably dry) for the process. I go with the vacuum to make sure there is no dust left in it. To remove stains, I follow with a toothbrush and solution for thorough cleaning.
How do you clean badly stained microfiber?
If you own a recliner with a removable cover, you can use a liquid cleaning solution for a thoroughly comprehensive process. Now, soak the cover in a vinegar mixture so that it gets all the dirt and debris. Once you are done, follow with any cleaning solution or detergent of your choice to scrub the stains and spots from the cover. Finally, rinse it with cold water and dry it to make sure it doesn't keep holding on to moisture.
How can I make my microfiber couch look new?
If you have just bought new microfiber furniture, the first thing you need to do is get professional treatment. This is because this keeps the product protected from spots and fading. Similarly, for cleaning, use a vacuum cleaner now and then to make sure there is no dust and debris in your microfiber furniture piece. However, use it at a low-speed setting to prevent wrinkles.
Final Thoughts on Microfiber Recliner Chair Cleaning
In the end, microfiber fabric is preferred by users, specifically for its ability to provide users with comfort and breathability. However, using one also means cleaning one which is the part that confuses many people. Therefore, if you're wondering what products or methods to use, don't worry as I have guided you comprehensively in this cleaning guide.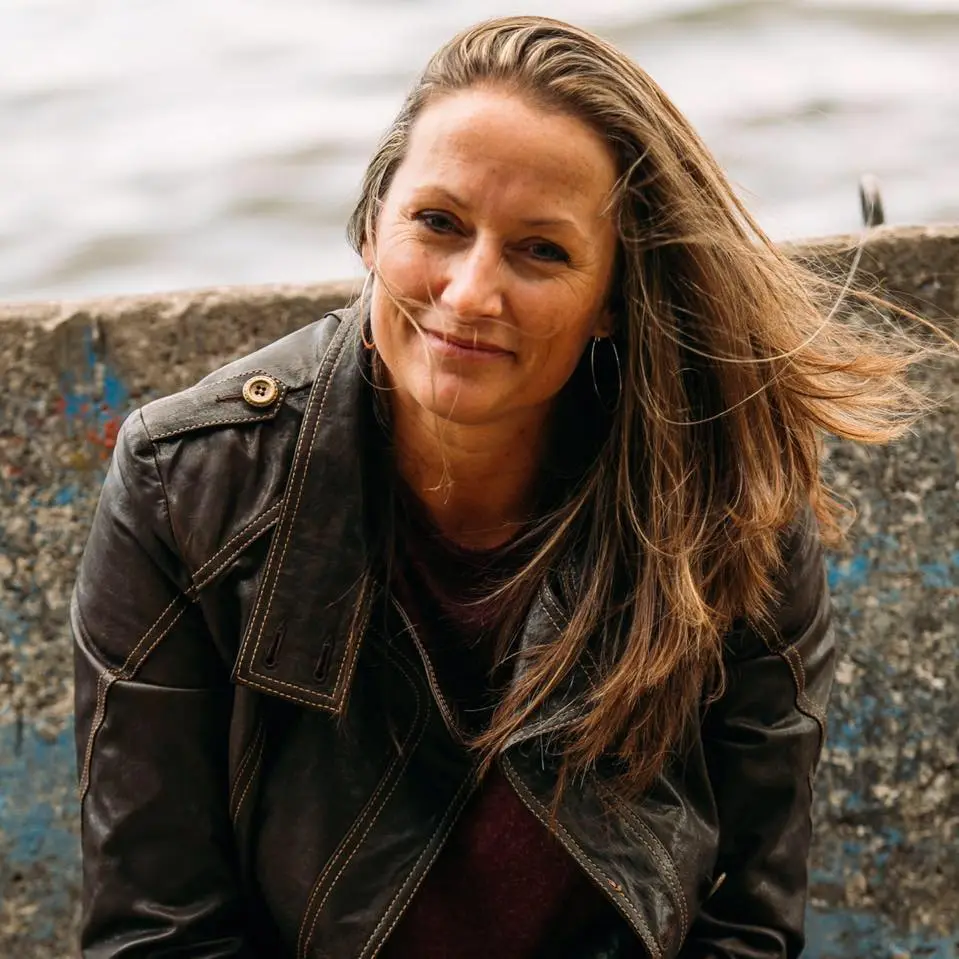 Hi, I'm Alexandra Adams, Interior Designer by profession! I has always been passionate about interior design and remodeling since my childhood. Following my passion, I graduated with a Bachelor of Fine Arts in Interior Designing and turned my passion into a profession. I have worked as commercial and residential interior designer to make homes and offices more functional while keeping their aesthetic.
Looking at my Interior Designing expertise, Terry Crews offered me to join his team to help him shape the very core of Homeoure. Feel free to contact me at anytime for queries related to your home and office furniture and other things related to designing.
Learn More about Homeoure and Alexandra Adams