Making furniture can be a fun and rewarding experience. Not only does it save you money, but it also allows you to customize pieces to suit your taste. Plus, there's nothing quite like the satisfaction of seeing something you created with your own hands.
Making furniture on your own can be a fun way to save money while also creating something unique and personalized for your home. With some basic tools and materials, you can design and build your own furniture that will last for years to come.
8 Major DIY Furniture Ideas You Can Try at Home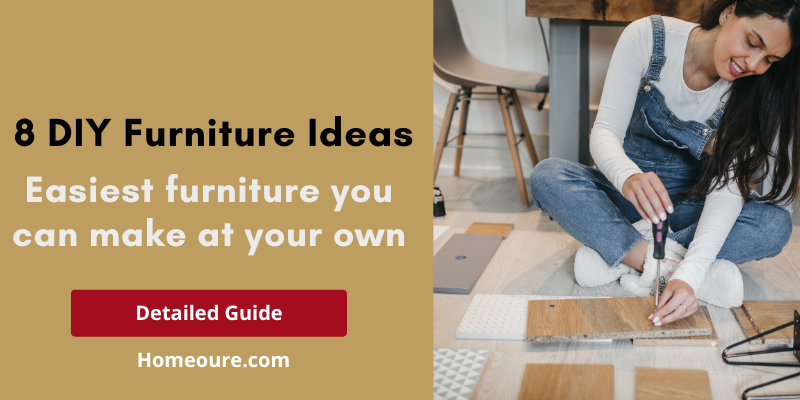 With so many different types of furniture projects out there, the possibilities of DIY furniture ideas are endless. No matter what kind of style or look you're going for, by making it yourself you can ensure your project will be perfect every time!
1. Bedroom Furniture DIY Ideas
Making bedroom furniture can be a fun and rewarding project for DIY enthusiasts. With the right tools, basic knowledge of carpentry, and a bit of creativity, anyone can build their own bed frame, nightstands, dressers and more.
The most common type of bedroom furniture to build is a bed frame. The construction process can vary, but the basic steps include cutting wooden planks to size, assembling the frame and attaching it to the headboard and footboard. Watch a comprehensive video guide to make queen bed frame.
Make sure you use a reliable set of plans or instructions so that your bed is sturdy and properly put together. Nightstands are another popular piece of bedroom furniture to make on your own.
The simplest way to build them is to use two wooden boxes that fit together. Secure the boxes together with screws or glue, and then attach four legs to the bottom.
You can also paint or stain the nightstands, and even add a shelf if you want extra storage space. For those wishing to take on a more complex bedroom furniture project, building a dresser is a great option. Similar to making a nightstand, you will need two wooden boxes that fit together and four legs for the base.
However, you will also need to build drawers, as well as hardware to attach the drawers to their runners. With some patience and precision measuring, anyone can build an attractive and functional dresser.
2. Living Room Furniture DIY Idea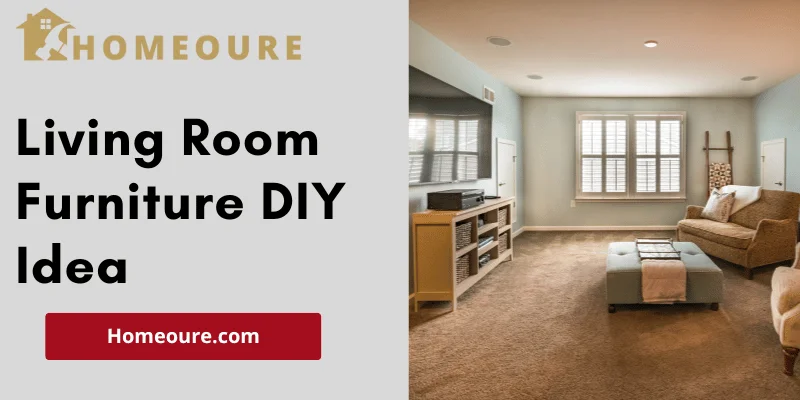 The living room is the heart of the home and it can really benefit from handmade furniture. Coffee tables and side tables are easy and fun to make, as this type of tables they don't require much in the way of tools or experience. In addition, they can be customized to match the style of your home.
Steps to Make Coffee Table for Living Room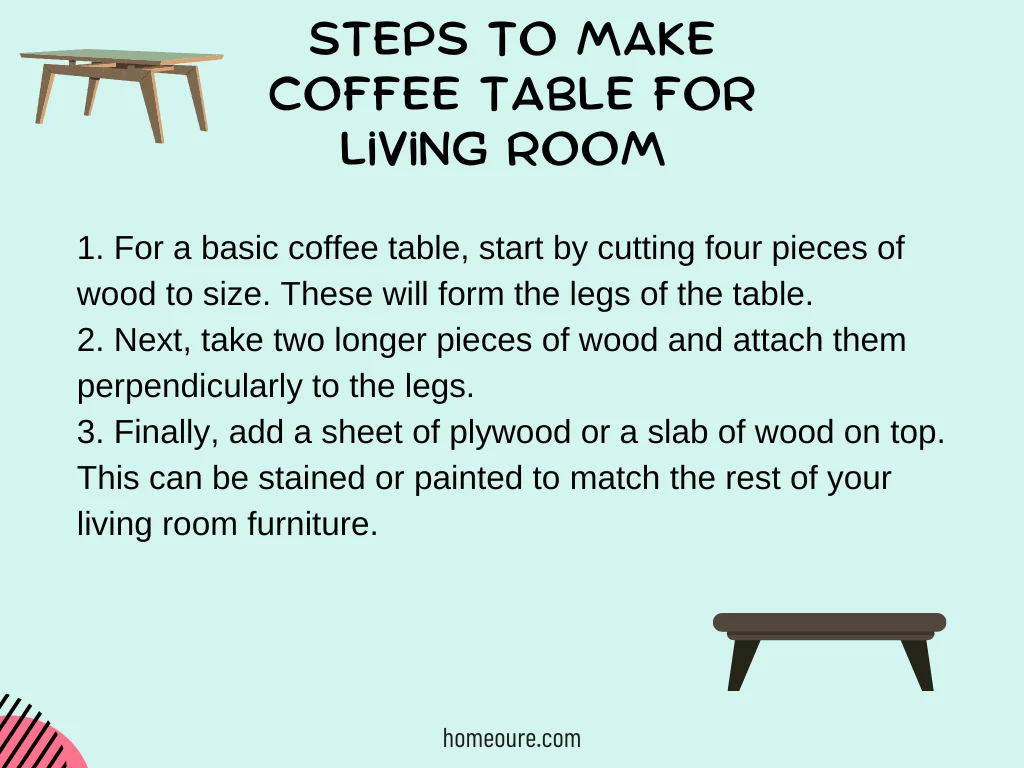 1. For a basic coffee table, start by cutting four pieces of wood to size. These will form the legs of the table.
2. Next, take two longer pieces of wood and attach them perpendicularly to the legs.
3. Finally, add a sheet of plywood or a slab of wood on top. This can be stained or painted to match the rest of your living room furniture.
Another type of furniture for living room that's relatively easy to make is a side table.
Steps to Make Side Table for Living Room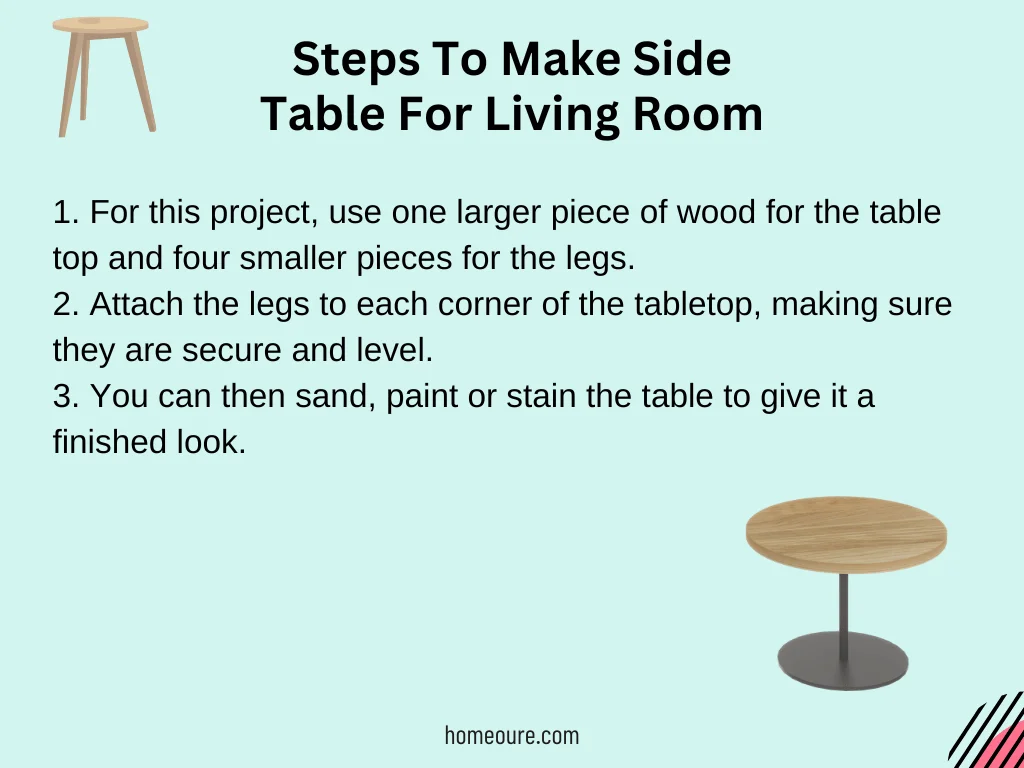 1. For this project, use one larger piece of wood for the table top and four smaller pieces for the legs.
2. Attach the legs to each corner of the tabletop, making sure they are secure and level.
3. You can then sand, paint or stain the table to give it a finished look.
Make Desks for Living Room
With minimal tools, materials and time you can build yourself a custom desk that you can be proud of. A basic desk consists of four components: the legs, the frame, the top and any additional shelves or drawers you decide to add. Also, have a look at best desks for video editing.
All of these components can be constructed using basic tools, such as a drill, saw and screwdriver. You will also need to purchase materials like wood planks, screws and brackets to assemble the desk.
If you're looking for an easier project than building a desk from scratch, try making a desk from an existing piece of furniture. This could be anything from an old dresser to a kitchen island. By replacing the top and adding legs, you can easily turn any existing piece of furniture into a stylish new desk. Read a detailed guide about difference between table and desk.
4. Kitchen Cabinets and Shelves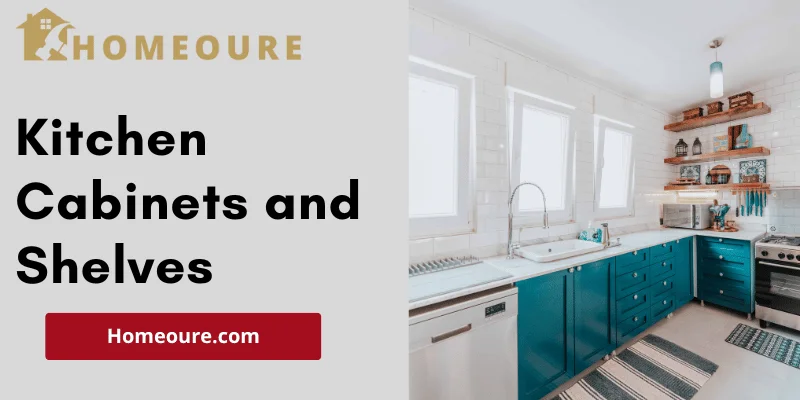 Making kitchen cabinets and shelves is a relatively easy task for those with basic woodworking skills. You can use pre-made cabinet parts or make them from scratch using plywood and other materials.
The basic design of cabinets and shelves is easy to understand, so you can customize it to fit your kitchen space perfectly. To make the process even easier, use prefabricated cabinet parts that are designed for a specific application, such as laundry rooms or pantries.
5. Wooden Stools and Benches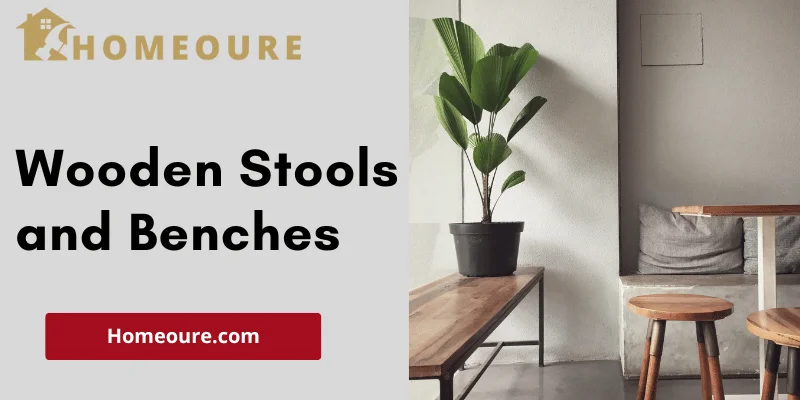 Wooden stools and benches can also make a great addition to any home. They are relatively easy to make and require little in the way of tools or skills.
All you need is a saw, drill, sandpaper, wood glue, clamps, screws and some basic knowledge of how to put together pieces of wood. Once finished, you can customize it with stains or paints to make it unique.
6. End Tables and Coffee Tables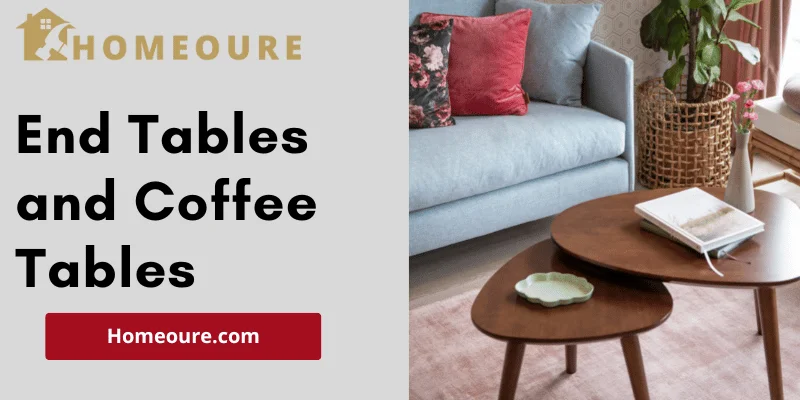 End tables and coffee tables are essential pieces of furniture in any home. Making them yourself is a great way to add a custom touch to your living space.
The basic design is simple and straightforward, so it would be easy to figure out with a few simple tools. You can use different types of wood, such as pine or oak, and you could also choose to add decorations like carvings or painted designs.
With some patience and practice, you will be able to make stunning end tables and coffee tables that will last for many years.
7. Bookshelves
Building a bookshelf is an easy DIY project that you can complete with only a few supplies and a little bit of time. To begin, you'll need some basic carpentry tools—a saw, hammer, nails or screws, drill, measuring tape and wood glue. You'll also need wood boards in the sizes you'll need for the shelves and frame.
You'll likely need to cut the boards down to size if they are not already the correct lengths. Once you have your pieces cut, use wood glue to attach them together and then screw or nail them into place. Finally, stain or paint your bookshelf as desired.
8. Shoe Rack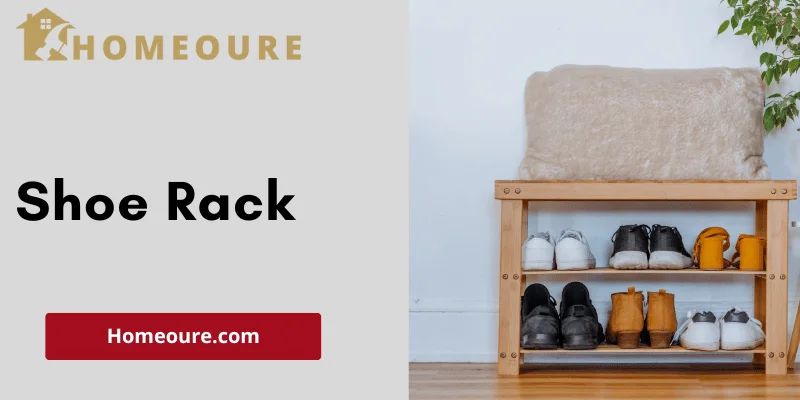 To get started, you'll need the following materials: two 4×8-foot boards, 3-inch screws, 2×4 lumber, wood glue and a finish of your choice.
1. Begin by cutting two pieces of the 4×8-foot board into four even sections measuring 1 foot each. Use these pieces to create two frames that measure 14 inches tall and 12 inches wide.
2. Next, use the leftover board to create the shelves that will fit in between these frames.
3. Cut two pieces measuring 11 3/4 inches to serve as the top and bottom supports for each shelf, then cut three additional pieces to fit in between them.
4. Secure all of the pieces together with wood glue and clamps, then add 3-inch screws in a few places for extra support.
5. Once the shelves are built, take two of the 2×4 pieces and cut them to fit inside the frame you created. Secure these in place with screws as well.
6. Finally, finish off your shoe rack with a paint or stain of your choice. After it dries, you're ready to add your shoes and any other items you'd like to store.
Final Remarks about DIY Furniture Ideas
Whether you're looking for an easy project to do with the kids, or just want something new in your home without breaking the bank, DIY furniture projects are a great way to get started.
With the right tools and materials, even novice builders can make some of these simple pieces of furniture themselves.
From benches that take only a few hours to build up to more complex items like bookcases and coffee tables, there is sure to be something here that will fit both your budget and skill level. So why not give it a try? You may find yourself enjoying this creative endeavor much more than you expected!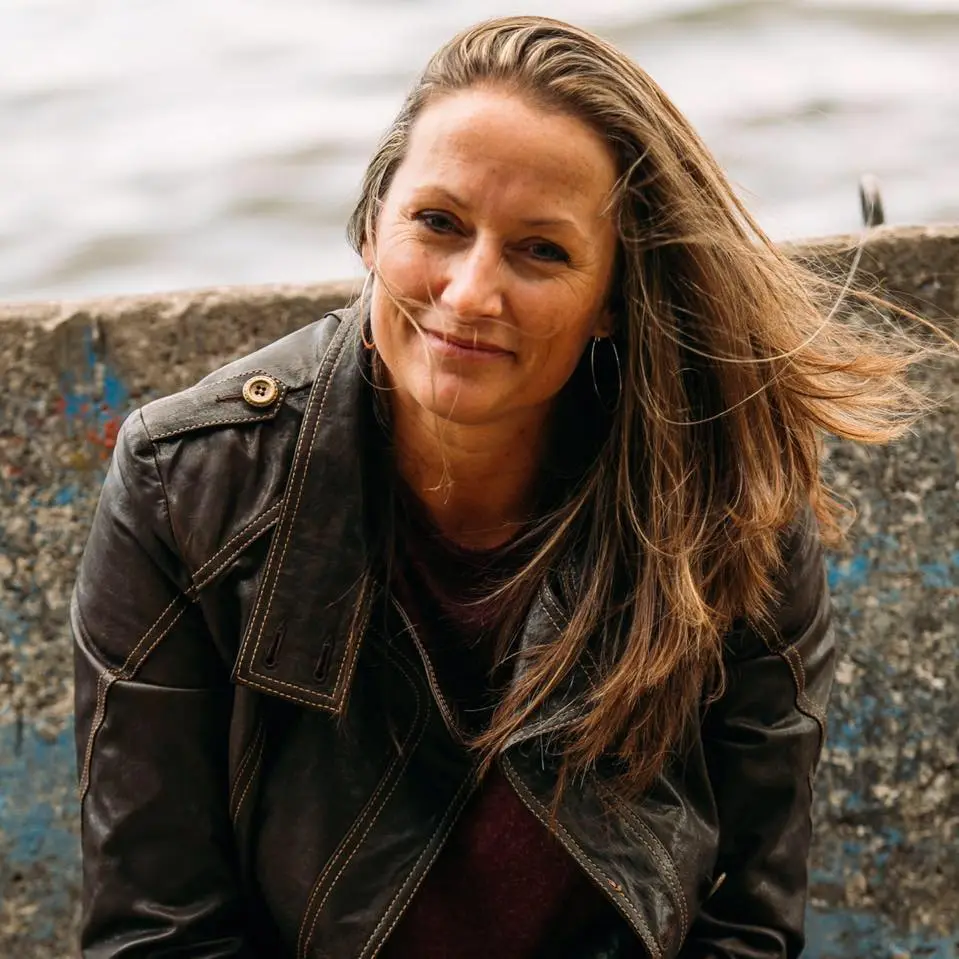 Hi, I'm Alexandra Adams, Interior Designer by profession! I has always been passionate about interior design and remodeling since my childhood. Following my passion, I graduated with a Bachelor of Fine Arts in Interior Designing and turned my passion into a profession. I have worked as commercial and residential interior designer to make homes and offices more functional while keeping their aesthetic.
Looking at my Interior Designing expertise, Terry Crews offered me to join his team to help him shape the very core of Homeoure. Feel free to contact me at anytime for queries related to your home and office furniture and other things related to designing.
Learn More about Homeoure and Alexandra Adams