Constructing a house might not be as troublesome when it comes to furnishing it. You can completely ruin or upgrade the overall look of the house. The correct selection of table furniture can make your room look spacious and cool.
You need to focus on the style, color, and theme that you had planned for a room in the house before you step out to buy any piece of furniture for that particular room. It truly depends on the ease, comfort, and personal preference of the homeowners as many people prioritize fashion trends while others focus solely on comfort.
You can go for any style and design that you are comfortable with. Out of all types of furniture, tables are a more crucial part of your home interior as each room needs them. Whether it is your living room, dining room, drawing room, kitchen, kid's room, bedroom, office, or playroom for the children, each needs a suitable table.
Tables can be of numerous types on the basis of their function, location, design, and use. If you are new to home makeovers and interior designing, then you will first have to know all the different types of tables. It will help you identify when to go for which style. Keep on reading.
8 Different Types of Table Furniture for Home
Believe me, you will never want to replace an office table with a dining table. This will simply seem too bizarre as well as it will completely kill the look and impression that your home office will have on your visitors.
In order to avoid such embarrassing furniture selection, here I have gathered all the different varieties of tables out there along with the perfect place for them. So, it will help you position a perfect table in a far more perfect position. You will see the difference that a single table can bring to your whole space. So, without further ado, Let's sink into the details.
1. End Tables – Best for Small Floor Spaces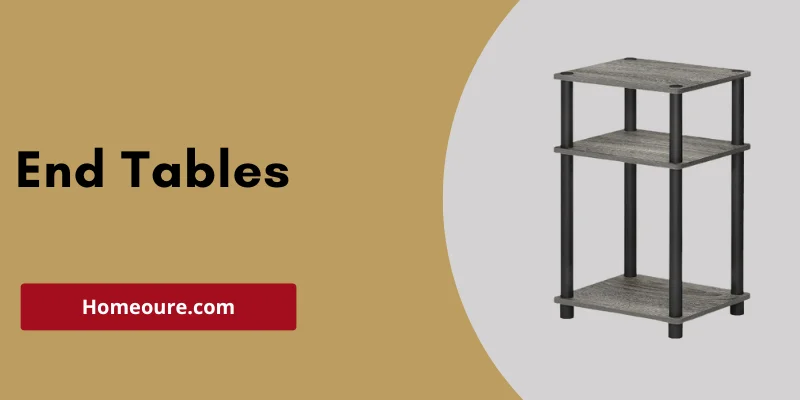 The end tables have become the favorite choice among homeowners because of the comfort they bring into a room. Imagine you have a large coffee table in the middle of the living room, but it is just a little too far from the couch. It can become a little irritating that each time you have to move and bend forward to get the things that you have on it. An end table can make this situation comfier by providing you with a space just by your side. You don't have to lean forward or leave the couch to fetch your things.
People can simply place an end table just beside the main sofa of the living or drawing room and you will not only have a more accessible position for your snacks and drinks but also for many other decoration pieces. You can put a nice small indoor plant, a fancy lamp, some of your adored books, or a memorable picture frame. When it comes to end tables the users have complete liberty in terms of where to place them and what to use them for.
2. Console Tables – Best for Placing TVs and Game Systems
One of the most trending tables of the current era is the console table. These tables are mostly bought for adding a more classy and luxurious touch to your home. In the last decade, the usage of the console table while styling a newly bought home or renovating an old one is a must to do.
Without having a single console table in your home, your interior will be totally incomplete. The console tables are not the tables that are placed in between sofas or in the middle of the room. These sleek and slim tables are usually placed just beside a wall.
Recently the trend of getting a console table along with a wall mirror is more in. The console table can be placed in front of the main entrance, so you can see yourself in the mirror and not forget your essential possessions such as your glasses, wallet, house and car keys as well as it gives a nice look when people enter the house. You can also get one to place under your television or behind your sofa set too.
If you are a content creator, you can also read about best desks for video editing
3. Accent Tables – Best for Decorative Purpose
Sometimes if all of the furniture that you have placed in your living area, drawing room, or any other have one single theme, then it might need something that can pop up the whole look completely. The accent table is not a particular size of table design as it is just one that brings about a certain change in the overall look of your room
It can be any of the previously mentioned table styles, but the only thing that distinguishes this table from others is that it is completely a new genre of style as compared to the other furniture around it. This difference must be able to enhance the room's look.
4. Coffee Tables – Best for Living Room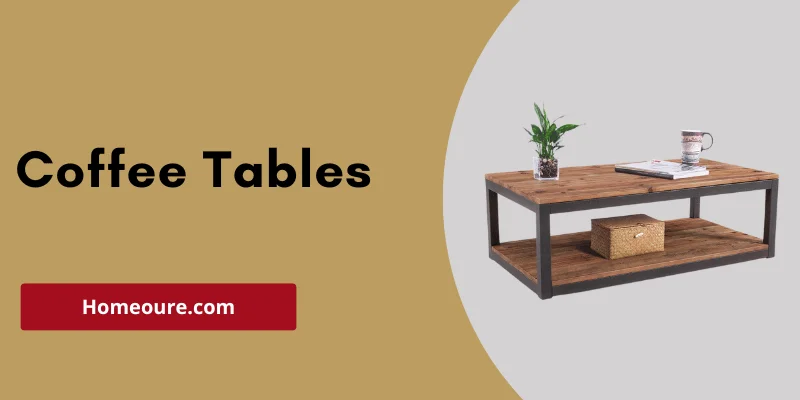 If you have decided to have no coffee table in your living room, then you are definitely making a huge mistake. This might be because you need more free space, but you must keep in mind that if there will be no coffee table in your sitting rooms, then it will deprive you of space and base that will provide the users a means to put their things in one place.
If you are not a fan of piling up things, then you can simply put a book, a plant, a candle, or a stylish decoration piece. These have shorter legs giving them slightly low height. You can decrease the size to help you fit one of them in a compact space.
You may also be interested to read about best living room chair for back pain sufferers
5. Cocktail Tables – Best for Outdoor Seating Area
This is definitely not one of the tables that every home has. The cocktail tables are quite different in style and design as compared to the other types of tables mentioned before. The previous ones are a part of sitting situations.
Whereas the cocktail tables are most likely to be used in the backyard or garden where you can entertain your guests. You can also place one beside your outdoor seating area if you have high tables as these cocktail tables have long legs, so you don't even need to sit while catching up with guests.
6. Dining Tables – Best for Dining Room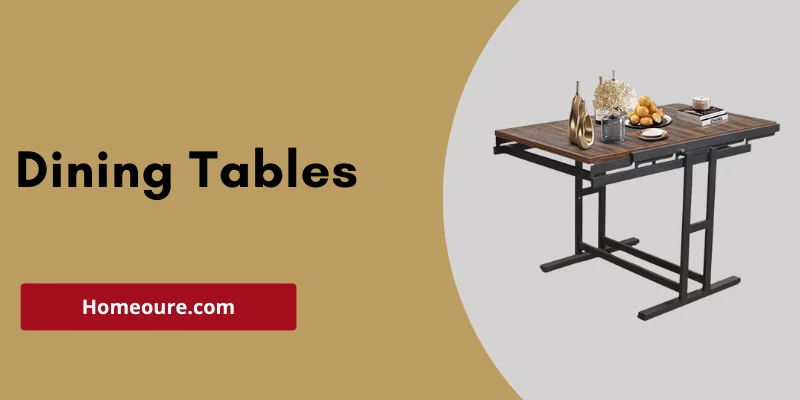 Whether you have enough space for a separate dining room or not, a dining table is definitely a part of every home with a family in it. On the dining tables, families not only eat food together but also cherish time with loved ones while discussing their whole day.
The dining table is not just a single large table that is placed in a room. Instead, it has a set number of chairs along with it, which will depend on the size, shape, and dimension of the table around which you will place them. The base of a dining table can be wood, glass, or marble. You can select anyone that goes with your style.
7. Ottoman Tables
Even though the ottoman tables are known as tables, you can use them to place your snacks on, sit, and use them as leg rests. The ottoman tables are usually round and have a foam that is covered by cloth or leather material.
The best thing is that these tables are tiny, cute, and convenient when it comes to positioning them. You will not have to worry about space and storage. Just get one that resonates with the material of the sofa set that you have in the room.
8. Nested Tables – Best for Smaller Spaces
Nested tables are best for people who have large living rooms as your coffee table will not be accessible to everyone in the room. If you offer some snacks to your guests or friends they might struggle to find a secure place to put their stuff and enjoy the snacks and drinks.
You can get a set of nested tables to get rid of this issue. The nested table does not include a single table. Instead, it has a number of tables that differ in height and width. You can put one in front of each sofa and relax.
What are the four main types of tables?
The four main types of tables are dining tables, coffee tables, side tables, and work tables. You can put the dining table in your dining room or eating area. The coffee tables have a low height, so they are ideal to go with sofa sets. The side tables can be either placed just at the side of a sofa or a bed. A bed has two of these on each side. Lastly, the work table includes not only the ones suitable for offices, but also for children, and gamers.
Final Remarks about Kinds of Tables Guide
I hope that now you know about the different types of tables out there. You can select a console table, dining table, coffee table, end table, accent table, cocktail table, nested table, or an ottoman table to furnish your home with the trending, stylish, and new style.
Well, these are not the only ones as you can also use side tables, work tables, vanity tables, bistro, kitchen tables, patios, and many more. Just analyze the space that you have, what is the theme, and what style you want to go for.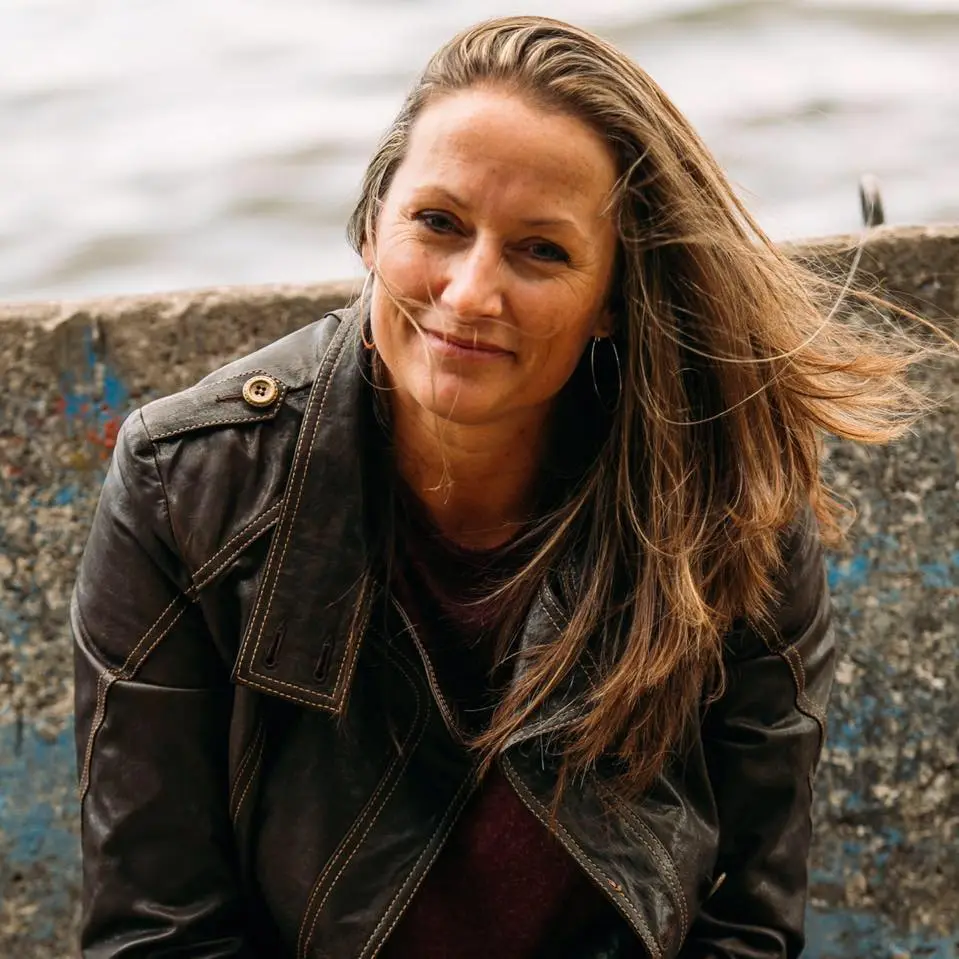 Hi, I'm Alexandra Adams, Interior Designer by profession! I has always been passionate about interior design and remodeling since my childhood. Following my passion, I graduated with a Bachelor of Fine Arts in Interior Designing and turned my passion into a profession. I have worked as commercial and residential interior designer to make homes and offices more functional while keeping their aesthetic.
Looking at my Interior Designing expertise, Terry Crews offered me to join his team to help him shape the very core of Homeoure. Feel free to contact me at anytime for queries related to your home and office furniture and other things related to designing.
Learn More about Homeoure and Alexandra Adams